About Midas| Photo Album | Foal Gallery | Stallion Service Contract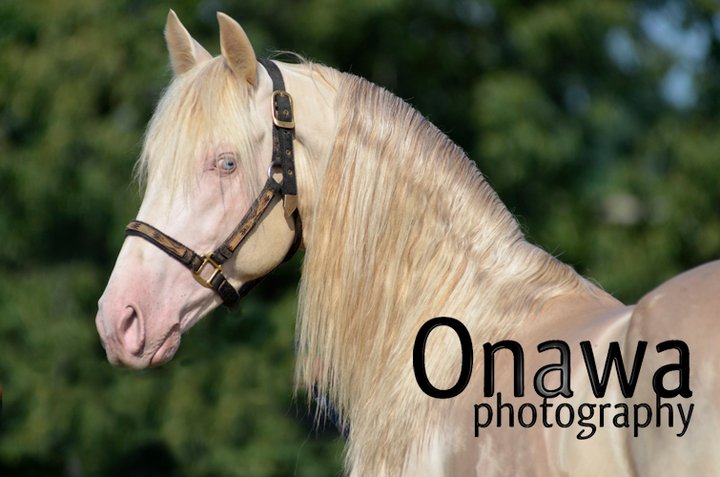 This perfect perlino is the product of two phenomenal horses. Both of his parents are tremendously athletic, supremely intelligent, naturally smooth gaited, people-pleasing and just all around wonderful horses. He is EXACTLY what we had hoped to get - a perlino colt to keep as a stallion prospect.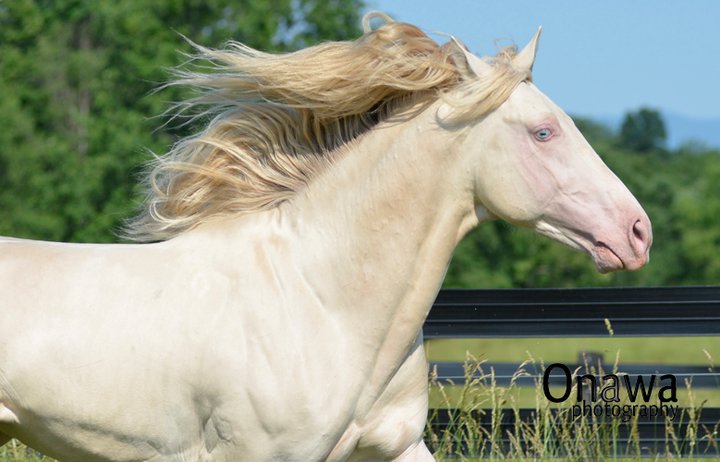 Disposition.
Midas has common sense and an honest approach to everything. He is respectful of his handler's space. Before his knee injury I rode him with my then three year old son, Gavin, on my lap. We rode down busy roads passing barking dogs, motorcycles, tractors, semi trucks, and more and Midas doesn't flinch. He just carried us along as smooth as silk - I couldn't ask for anything more. In the field, Midas follows Gavin around and nuzzles him. Just like his Gambler, he's fascinated by children and knows to be gentle. We rode Midas alone and in groups with mares and geldings and he took excellent care of us. You would hardly know he was a stallion.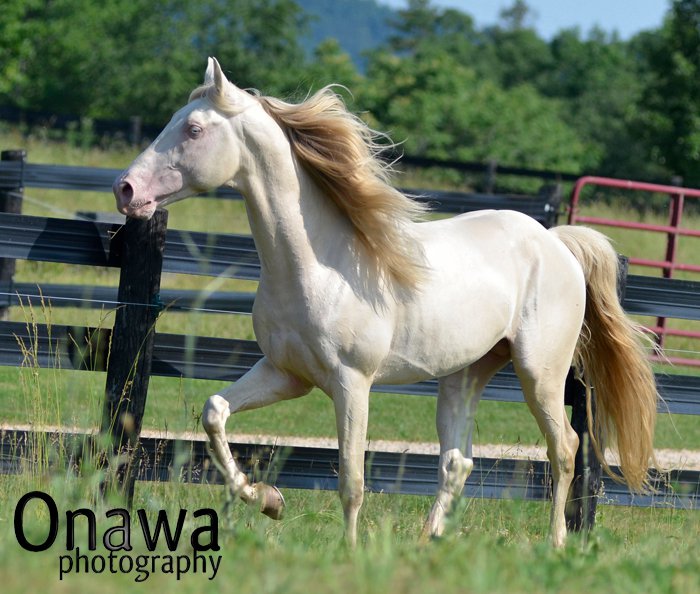 Gait.
Midas has exhibited a true gait since day one. He has a perfectly timed rack and a true 3-beat canter. He is tremendously athletic and agile. As a foal, he looked like a little reigning horse - spinning, sliding, and cantering around. He retained that agility and athleticism as an adult horse.
Conformation.
Midas has excellent conformation. He has excellent bone and muscle without being coarse or unrefined. His back is strong and short, enabling him to collect with ease. He has his sire's beautifully arched neck and natural "waterspout arch" to his tail. Midas has a beautiful head with a broad forehead, soft eyes and his sires tapered muzzle with fluted nostrils. His hooves are as hard and strong as a mustang's, just like his sire's.
Guaranteed "Gold".
We named "Midas" for the mythical king whose touch turned all into gold. Midas is a genetic goldmine (literally!) He has been DNA tested by UC Davis and is homozygous for cream (CrCr) and the agouti (AA.) This means that we can offer a GUARANTEE of a gold (palomino or buckskin) foal from bay, black and chestnut mares. Color possibilities:
Black/Bay/Chestnut mares: palomino and buckskin foals.

Smokey Black/Buckskin/Palomino mares: palomino, buckskin, cremello, or perlino foals.

Smokey Cream/Perlino/Cremello mares: cremello or perlino foals.

Classic/Amber/Gold champagne mares: palomino, buckskin, amber, gold, gold cream, or amber cream foals.
Bloodlines.
Midas' bloodlines are a unique blend of working and show lines. On his sire's side he carries the blood of the western working horses from Calvin Miller's ranch on top and the eastern bred old-time show horses on the bottom. Midas' dam boasts industry greats Pride's Generator, The Touch, Ebony's Senator and Another Grey John. Midas' bloodlines are also unique in that he does not trace back to The Pusher C.G. This makes him an EXCELLENT outcross for mares who are heavily Pusher bred.
GAMBLER'S MIDAS TOUCH WF

KMSHA #200710050
TWHBEA #20700235

DOB: 5-5-2007
COLOR: PERLINO
SEX: STALLION

GENOTYPE:
[Ee AA CrCr]*

*tested and confirmed by UC Davis

GOLDEN GAMBLER

TWHBEA #20112890
KMSHA #200607069
RHBAA #1012883
IPWHR #1454

DOB: 5/14/2001
COLOR: BUCKSKIN
HEIGHT: 15H

GENOTYPE:
[Ee AA NCr]*



Blue Gold
TWHBEA #905820
Color: CREMELLO
HEIGHT: 15.3H

Jetstar's Sunrider
TWHBEA #868692
DOB: 1986
COLOR: CHOCOLATE PALOMINO

Delight's Jetstar
TWHBEA #702623 COLOR: BLACK
Merry Man's Charm
TWHBEA # 698609 COLOR: Palomino

Big Star's Gold Lady
TWHBEA #790692
DOB: 1979
COLOR: Palomino
Eldorado's Big Star
TWHBEA #662833 COLOR: BLACK
Hero Merry Rose
TWHBEA #694854 COLOR: CHESTNUT
Cindy's Image - GH
TWHBEA #823206
COLOR: BAY
HEIGHT: 16H

Solitude's Eb Master
TWHBEA #685658 COLOR: BLACK
Ebony Masterpiece
TWHBEA #560586 COLOR: BLACK

Go Boy's Lady Ann
TWHBEA #550330
Threat's Cinderella
TWHBEA #730274
COLOR: BAY
Triple Threat
TWHBEA #612233 DOB: 5-1-1956
COLOR: Bay

Handshaker's Sue
TWHBEA #655566 COLOR: BLACK
WINNING TOUCH

TWHBEA #20201544
KMSHA #200612043
RHBAA #1022612

DOB: 5/26/2002
COLOR: BUCKSKIN
HEIGHT: 15.3H

GENOTYPE:
[Ee Aa NCr]


ONE PART GEN
TWHBEA #961873 COLOR: PALOMINO
MARKINGS: BOTH HIND AND NEAR FORE FETLOCKS, SNIP, WHITE MANE AND TAIL.
MAN OF GENERATOR
TWHBEA #874219 COLOR: CHESTNUT
MARKINGS: OFF HIND FETLOCK, INSIDE NEAR HIND CORONET, FEW WHITE HAIRS IN FOREHEAD.
PRIDES GENERATOR
TWHBEA #753925
COLOR: CHESTNUT

MOONWALK'S STAR
TWHBEA #772910 COLOR: BLACK
MARKINGS: STAR, SNIP.
WILSON'S PRINCESS LADY
TWHBEA #897639 COLOR: "WHITE"
DRUMMER'S GOLD DUST
TWHBEA #845980 COLOR: PALOMINO
MARKINGS: OUTSIDE NEAR HIND FET- LOCK, INSIDE NEAR HIND CORO NET, NEAR FORE SOCK, BLAZE, WHITE MANE AND TAIL.
HAY LOOK ME OVER L.M.
TWHBE #675755
COLOR: BLACK
SHE'S TOUCHED
TWHBEA #971428 COLOR: BLACK
MARKINGS: STAR
THE TOUCH
TWHBEA #885121
COLOR: BLACK

ANOTHER GREY JOHN
TWHBEA #847253
COLOR: GREY

SPIRIT'S EBBY
TWHBEA #824753 COLOR: BLACK
MARKINGS: NEAR HIND FETLOCK, STAR.
SENATOR'S LADYAIRE
TWHBEA #784874 COLOR: BLACK
EBONY'S SENATOR
TWHBEA #641156
COLOR: BLACK

DELIGHT'S LADYAIRE
TWHBEA #716332
COLOR:CHESTNUT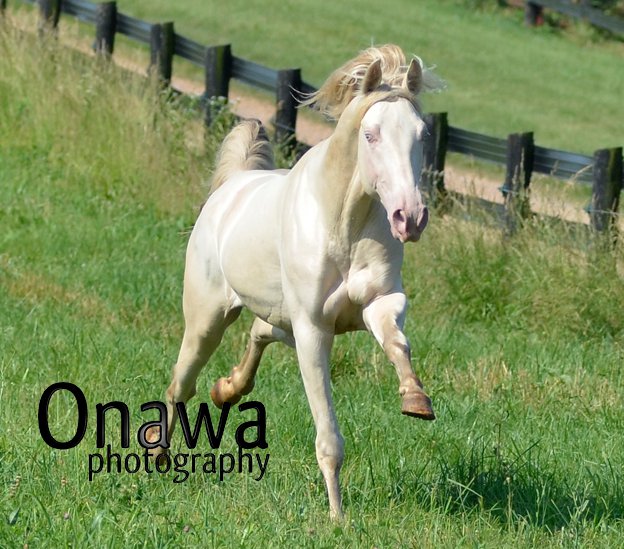 Registrations.
We do not require that mares bred to Midas be registered, we judge each horse as an individual, not by papers. We would rather breed a high-quality gaited un-papered mare than a low quality papered mare. However, foals with papers are more valuable than those without. For that reason, Midas is registered with several registries.
Breeding Information.
Midas' stud fee is $375/LCFG and mare care is $15/day or $200/mo (pasture board). We are located in Locust Dale, Virginia. Live cover only. E-mail us or call Stephanie at 540-825-1300 for more information on breeding to Midas.


Westwood Farms - Locust Dale, Virginia 22948 - stephanie@westwoodfarms.net - 540-825-1300