Blue Gold
Reprinted with permission
By Collene Walsh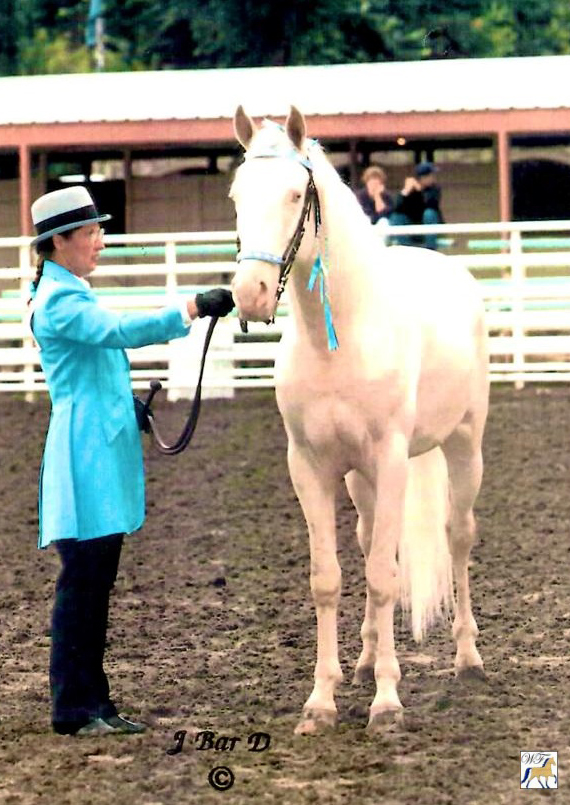 Blue Gold spent most of his life in south central Colorado's San Luis Valley. He was born in La Jara, Colorado on April 4, 1990. As a yearling, Blue Gold was advertised for sale by his breeder, Karen, in the Tennessee Walking Horse Association of Colorado's newsletter. There were no immediate takers. Let me say that he was advertised at much less of a price than todayís double dilutes! However, cremellos and perlinos were even more so diamonds in the rough back then than they are today.
Two other San Luis Valley residents were checking out this stud colt as a stallion prospect. Laurel and Delene went to see the yearling at Karen's place. After liking what they saw in terms of disposition, gait, conformation, and color, the two thought over the deal to make sure they were ready for the venture. However, when they called, Karen had sold him the week before!
After some tracking down, Blue Gold came to Arrow's Walkers in 1991 due to a partnership between two good friends, Laurel and Delene. Laurel's wealth of knowledge regarding color genetics, pedigree, and the breed in general shed light on the possibilities of this cremello Tennessee Walking Horse as a breeding stallion. The fact that his papers showed WGC Midnight Sun 3 times, WC Reyclif Mid-Merry (by WGC Midnight Sun and shown as Hill's Perfection), Calvin Millerís Sunís Merry Man, Zephyr's Flash O Gold (son of Allen's Gold Zephyr aka Roy Roger's Trigger, Jr.), WGC Merry Go Boy, WGC Sun's Delight D., and Sun's Hero (full bother to WGC Sun's Delight D.) influenced the decision to purchase him.
Blue Gold spent most of his time at the Lazy Y Arrow Ranch in Alamosa. He did spend some time with professional horse trainers Rob and Lila McCartney in the Pike's Peak area. Blue had a respectable showing in the ring as a three year old. He drew attention as the only cremello TWH shown in Colorado that year. Blue then left his show career to stand at stud.
Laurel actively promoted him around the country. In addition to producing many offspring for our ranch, he produced for area TWH breeders. Blue Goldís descendents are in Colorado and all over the country. Two of his daughters are in Kansas, Arrows Blue Sky and Arrows Star of Gold. A son, Golden Gambler, is in Virginia. Last we heard, his son, Arrows Blue Gold was in KY. His son, Captain's Creme Color (previously Arrows Blue Sky Traveler), is in MS. He has a daughter and a granddaughter in MT, Arrow's Colorado Gold and Arrow's Prairie Moon. His 2004 grandson, Arrow's Ready to Shine is in NC. If you own a horse with Blue Gold on the papers, we would love to hear from you!

Laurel and Blue Gold have both passed on. We always think of Laurel riding Blue in heaven. We appreciate all of the joy that Blue brought to us over the years. His gentle disposition was expressed to adults and children alike. Blue spent over 10 years at Lazy Y Arrow Ranch. He will be remembered as a kind hearted stallion. We are forever grateful to Laurel. Her hard work and appreciation for Blue Gold and the natural Tennessee Walking Horse helped to lay a strong foundation for our breeding program. May they enjoy their time together!

Compiled by CJW of Lazy Y Arrow Ranch, November 2004