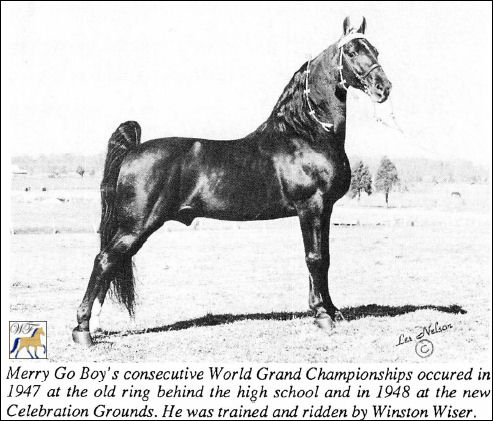 Photo taken from The Voice of the Tennessee Walking Horse.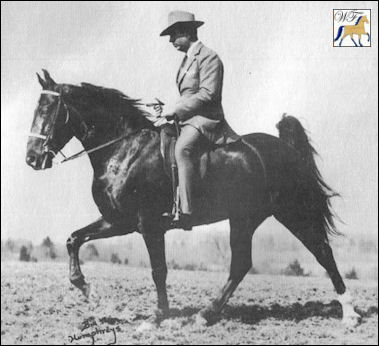 Merry Go Boy, TWHBEA #431336, was considered to be the model of perfect conformation for a walking horse. His high-headed good looks were second only to his head-nodding way of going.
"The small horse stepped and moved like a fairy in a moon-lit glen, barely seeming to touch the ground, light, smooth, fast, and graceful without apparent effort. His hock motion was like a hydraulic action, smooth and velvety in operation. His way of going seemed to give one an illusion that he could still be walking right down through the years. Those who had the opportunity to see Merry Go Boy perform will not soon forget him." - Dr. Bob Womack in his book, The Echo of Hoofbeats.
Merry Go Boy #431336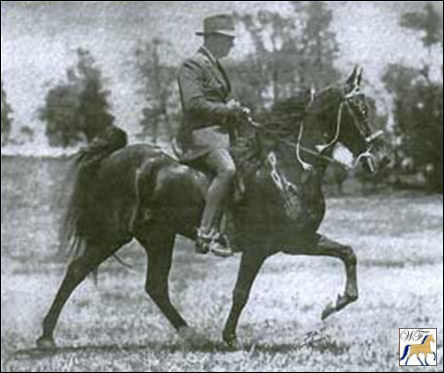 (Reprinted from The Heritage Tennessee Walking Horses Website)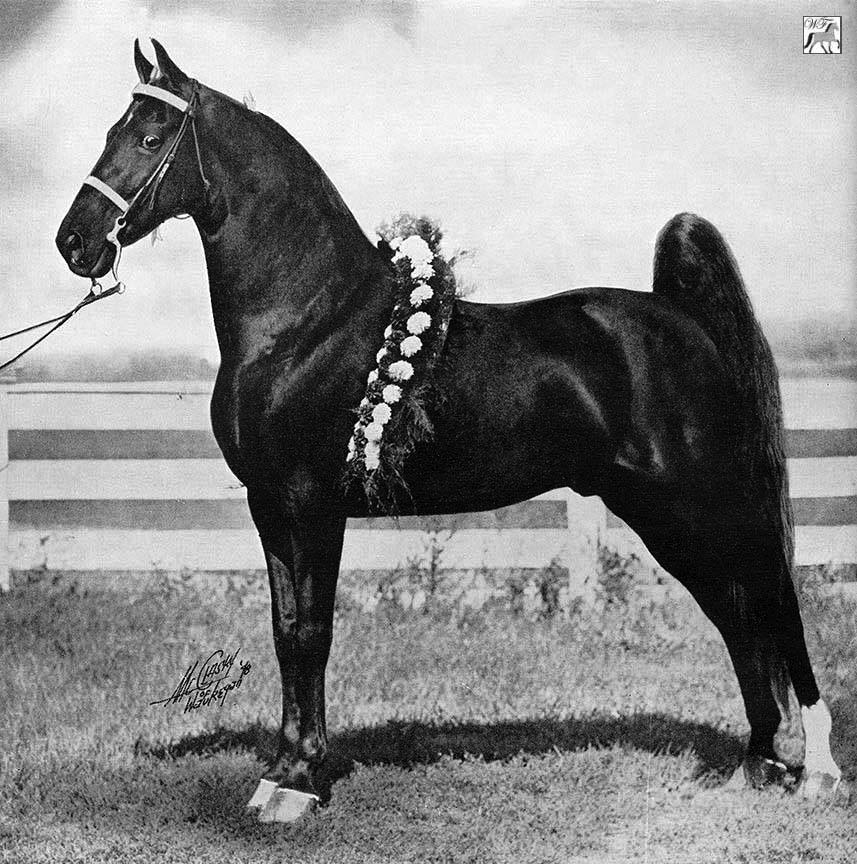 Merry Go Boy was sired by Merry Boy, out of Wiser's Dimples. Winston Wiser paid his brother three hundred fifty dollars for the colt when he was only a few weeks old in 1943. As a weanling, he was the winner of the Weanling Horse Colt Class at the 1943 Celebration during a morning show. Three classes later, he was reserve to the weanling filly, Frances Langford. This was the only time he was defeated in his class during his lifetime. He wond both the Yearling Colt Class and the Yearling Championship at the 1944 Celebration. He was the winner of the Three Year Old Stallion and Gelding Class and the Junior Stake in 1946.

On the following night, as a junior, he entered the big stake and was beaten only by Midnight Sun. The grand show stallion came back again in 1947 and won the World Grand Championship. He repeated his victory again in 1948.

Merry Go Boy as a conformation model for the Walking Horse Breed. The expression, "As fine as Go Boy", indicates the high regard in which he was held for his appearance as well as his ability to perform the gaits. One of the first things noted about him was his extreme nodding action. He had three distinct and perfect gaits and had many times been cited for his top performance.

In the 1960 Breeders National Futurity, 24 out of 46 ribbons were awarded to weanlings and yearlings sired by Merry Go Boy. Nothing appears to be known about what happened to all these colts when they were put under saddle though.

Merry Go Boy died on July 7, 1969.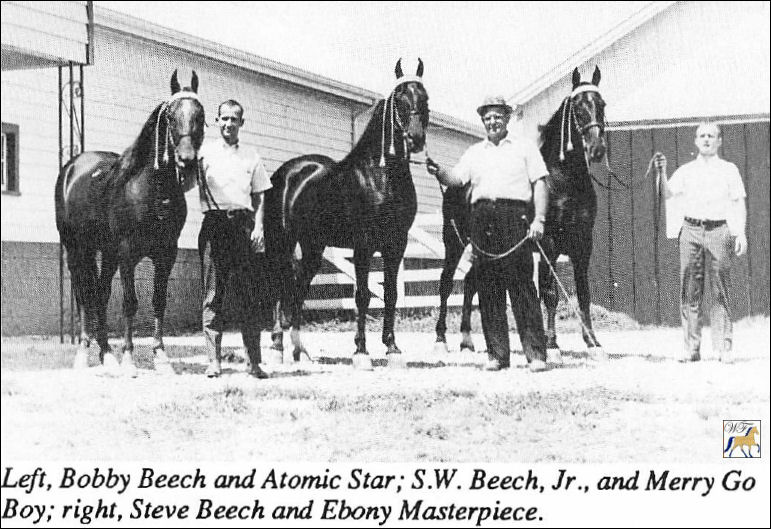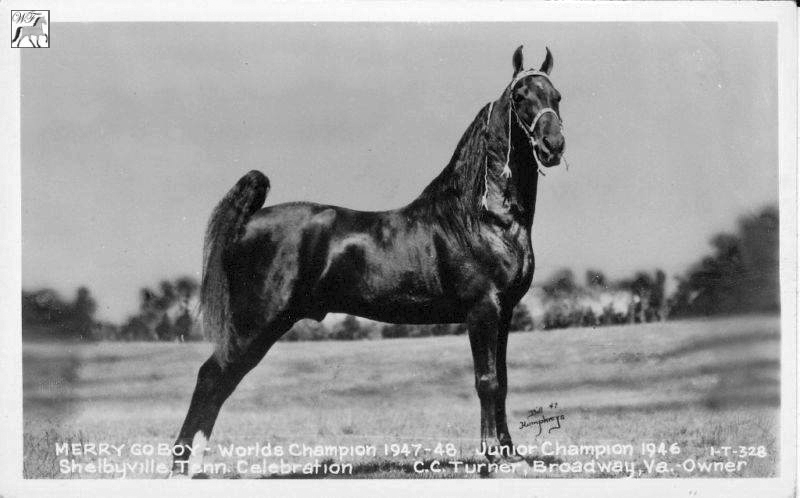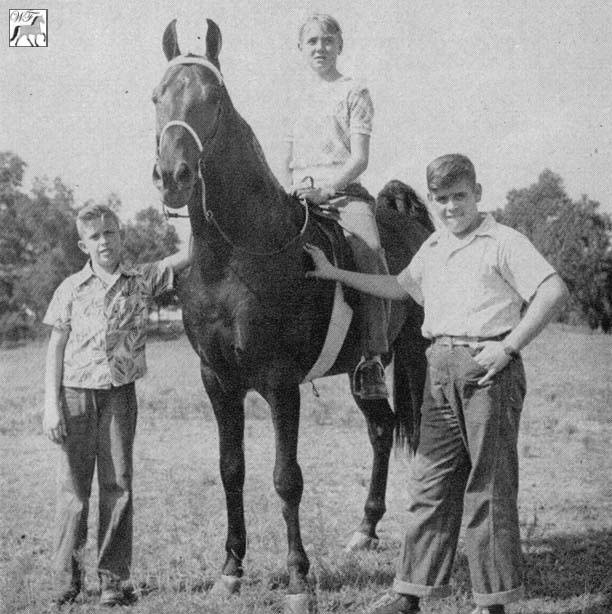 Merry Go Boy with Claude Jarman & the Wiser boys from Walking Horse Trivia.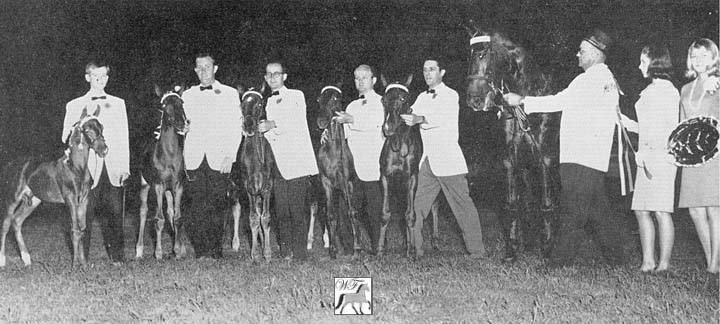 Merry Go Boy and foals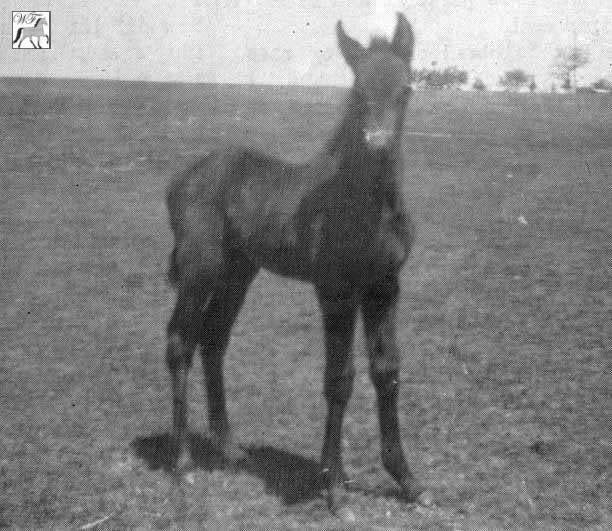 Merry Go Boy as a weanling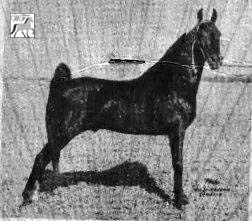 Merry Go Boy at 3 years old.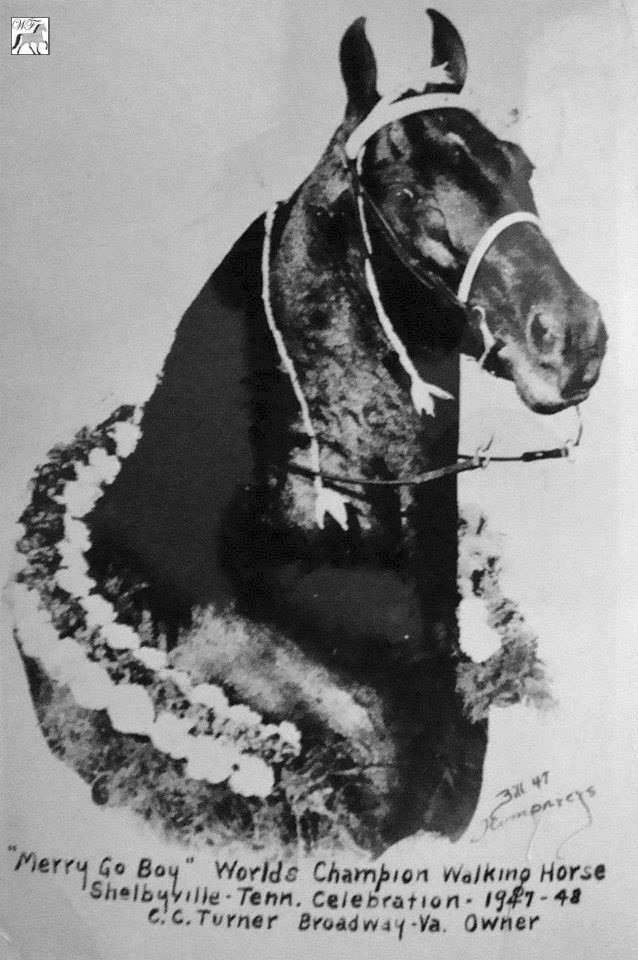 MERRY GO BOY
TWHBEA #431336

DOB: 1/01/1943
DOD: 7/07/1969

COLOR: BLACK
MARKINGS: NEAR HIND SOCK.

MERRY BOY


TWHBEA #350189
COLOR: BLACK SABINO

ROAN ALLEN


TWHBEA #F-38




COLOR: CHESTNUT SABINO




HEIGHT: 15.3H



ALLAN
TWHBEA #F-1
COLOR: BLACK

GERTRUDE


TWHBEA #84




COLOR: CHESTNUT SABINO




MARKINGS: FOUR STOCKINGS, BALD, MIXED MANE AND TAIL.

MERRY LEGS
TWHBEA #F-4
COLOR: BAY SABINO

ALLAN
TWHBEA #F-1
COLOR: BLACK

NELL DEMENT
TWHBEA #3
COLOR: CHESTNUT
WISER'S DIMPLES
TWHBEA #370096
COLOR: CHESTNUT
MARKINGS: OFF HIND FETLOCK, STAR, SNIP.
GIOVANNI
TWHBEA #370291
COLOR: BLACK

DANDY JIM II
TWHBEA #1531
COLOR: BLACK
FRANCESCA
TWHBEA #6949
COLOR: BLACK
WISER'S MINNIE
TWHBEA #400597
COLOR: CHESTNUT
MARKINGS: OFF HIND AND FORE FETLOCKS, STAR.
ALLAN
TWHBEA #F-1
COLOR: BLACK

WISER'S MOLLY
TWHBEA #10090
COLOR: CHESTNUT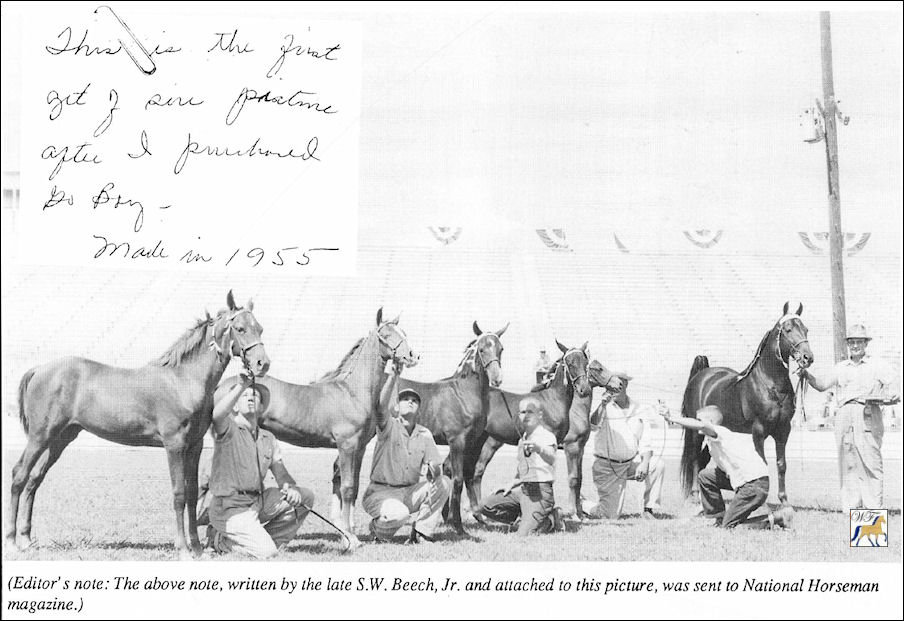 NOTABLE OFFSPRING

Westwood Farms - Locust Dale, Virginia 22948 - stephanie@westwoodfarms.net - 540-825-1300