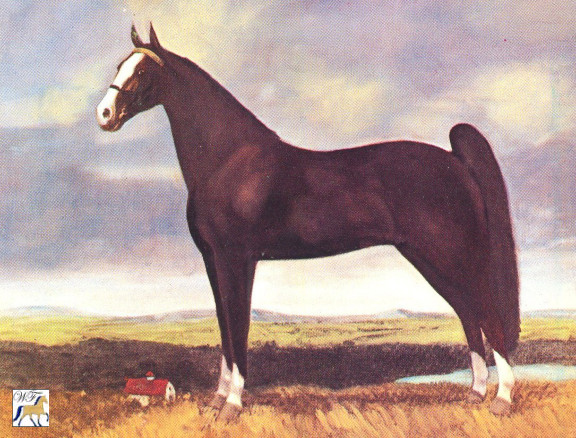 Merry Legs was a bay mare with four stockings (probably sabino). She was foaled in April, 1911, out of Nell Dement F-3 by Allan F-1. She was a big mare, standing 15.2 hands and weighing in at 1,200 pounds.
After four years of less than satisfactory results of breeding Nell to four different studs, Dement selected Old Black Allan (Allan F-1) to cross with Nell. Dement purchased Allan F-1 from his good friend, J.R. Brantley, in 1901 for $140. Allan died at the Dement farm near Normandy on Sept. 10, 1910, having produced only one colt from Nell. The result was Merry Legs F-4, foaled in April of 1911. She began her show ring career as a weanling under the direction of Henry Davis and was undefeated. Nell Dement died at the age of 28 and foaled her last colt at 26.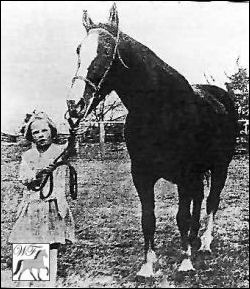 Merry Legs was referred to by many fans as "the greatest show mare that ever lived." Horseman Bob Murchison of Wartrace fondly remembered Merry Legs. "She did one thing that mares do not do nowadays. She would foal a colt in the spring of the year, then Mr. Dement would wean that colt two of three weeks before the State Fair in Nashville and would enter her in the show, where she would win first place."
In 1914, Merry Legs became the first three-year-old to not only win the Three-Year-Old championship, but also the Grand Championship Stake at the Tennessee State Fair. The only three- year-old to match her title was Merry Legs' granddaughter, Dement's Merry Legs II 360021 in 1936 with Floyd Caruthers, trainer.
"Those who knew Merry Leg's F-4 during her heyday, recall unmatched action in the show ring that enhanced her prowess as a versatile performer. Then, the fact that her offspring have given the breed masterpieces of perfection adds to her glory as a brood matron of unlimited quality." - Jimmy Joe Murray
"Merry Leg's F-4 was a straight-going mare with no amble whatsoever. She had lots of head motion, a good long neck, perfect ears and large eyes. Her canter was perfect, and her flatfoot walk and running walk were truly as great as any ever displayed by Tennessee Walking Horses. Anybody could ride her, because she had perfect manners, and was a gentle as could be."
"Merry Legs F-4 was without doubt the greatest show mare I've ever seen," asserted Davis in 1946. (Biography of the Tennessee Walking Horse by Ben A. Green.)
On at least one occasion MERRY LEGS was bred to GREY LAD, whose sire was BRAMBLETT, by BUFORD, by BOONE'S GREY JOHN. From this cross MERRY LEGS foaled a filly colt named SNIP. SNIP was later bred to LAST CHANCE, and the resulting foal was SNIP'S CHANCE. After Albert Dement's death, SNIP'S CHANCE was purchased by W.S. "Audie" Dean of Rutherford County, Tennessee. Dean bred the mare to MIDNIGHT SUN on several occasions but was not pleased with the results, therefore he decided to breed her to his own stallion, WILSON DEAN. From this cross came the famous "four sisters," whose offspring made Walking Horse history. From these four mares came SUN'S HERO, JOHNNY MIDNIGHT, MIDNIGHT IKE, MACK K'S TRIGGER, DELIGHT'S CHANCE, DELIGHT'S SUNBEAM, DEAN'S BOSS MAN, and the incomparable SUN'S DELIGHT D. the World Grand Champion Walking Horse in 1963. SUN'S DELIGHT and BUMIN AROUND are the only World Grand Champions to trace to MERRY LEGS through GREY JOHN blood. (p. 79. The Echo of Hoofbeats by Bob Womack)
Another Dement-bred Walking Horse out of Merry Legs F-4 and by Hunter's Allen was the stallion, Last Chance 350034. Mrs. Olive Caruthers Diekroger credited Dement and his belief in Last Chance with returning her husband Floyd Caruthers to the show ring. "It was Dement who persuaded Floyd to start training again," she said. "He called Floyd and asked him to train Last Chance. Dement had good horses and many consider him to have been a Master Breeder."

Last Chance was the last colt foaled by Merry Legs F-4 before she died of colic at the age of 21. As the announcer read a tribute to Albert Dement at the Columbia Horse Show a few weeks after his death in March of 1940 Last Chance was saddled and led around the ring without a rider, followed by close friends, show officials and members of the Breeders Association.
DELIGHT AND DILEMMA: THE ALBERT DEMENT HORSES
From The Plantation Showcase, October 1995.

...Among all of these though, his (Albert Dement's) favorites were the American Saddle Horse mare, Nell Dement a flax sorrel, and her stocking-legged daughter by Allan named Merry Legs. When the Tennessee Walking Horse Breeders' Association was organized in 1935, these two mares were accorded foundation status as Nell Dement F-3 and Merry Legs F-4.

As a young mare, Merry Legs was highly competitive in the county fair show circuit of her time. During her years in the ring, she won over forty blue ribbons at the major showcases of the day. The first man to truck Tennessee Walkers, Miller Hogwood, remembers one State Fair plantation championship in which his Uncle Albert was exhibiting Merry Legs. In that more relaxed atmosphere where ringside regulations were rather loose, Albert Dement requested his groom to hand him a glass of water. Balancing the glass in the palm of his hand, Dement neck-reigned Merry Legs around the ring as the audience went wild. The paid left the arena with the State Fair Grand Championship.

As a brood mare, Merry Legs produced a total of thirteen foals by many of the leading sires of the period. Albert Dement sought to produce the perfect breeding stallion through Merry Legs, and as she grew older began his final experimentation with the golden chestnut stallion, Hunter's Allen, at stud in Lewisburg, Tennessee. The first two foals from this cross died as yearlings, but in the spring of 1931, Merry Legs dropped a chestnut colt with two hind socks, a strip, and a flax mane.

Because Merry Legs was twenty years old when this foal arrived, Dement called him Last Chance, a name that proved prophetic when the bay mare died of colic the following year. The foal so pleased Dement that he was retained as the head herd sire of the Dement breeding program. After Albert Dement died on March 16, 1940, a tribute to his achievements was presented at the Columbia horse show. Last Chance was led around the arena, saddle empty, as friends and associates circled the ring behind the classic stallion, moving slowly while the announcer listed Dement's many contributions to the breed he helped create.
MERRY LEGS


TWHBEA# F-4

DOB: 04-1911
DOD: 1932

COLOR: BAY
MARKINGS: FOUR STOCKINGS, STRIP.

HEIGHT: 15.2h
ALLAN
TWHBEA #F-1
COLOR: BLACK

ALLANDORF
TWHBEA #12205
COLOR: GREY
ONWARD
ALMA MATER
MAGGIE MARSHALL


TWHBEA #12206




COLOR: BLACK

BRADFORDS TELEGRAPH

TRUMAN POLLOCK MARE

NELL DEMENT


TWHBEA #3
COLOR: CHESTNUT

DONALD


TWHBEA #6
COLOR: CHESTNUT

HURRY


ASR #4785

MAY

*FLAX


TWHBEA #12286

STONEWALL JACKSON

UNKNOWN
OFFSPRING
| | | | | | |
| --- | --- | --- | --- | --- | --- |
| TWHBEA # | Name | Color | Sex | Date of Birth | Sire |
| 350034 | LAST CHANCE | CH | S | 1/01/1931 | HUNTER'S ALLEN |
| 350038 | SNIP | BL | M | 1/01/1928 | GREY LAD |
| 350049 | BUD ALLEN | BA | S | 7/01/1918 | MITCH |
| 350059 | MAJOR ALLEN | BL | S | 1/01/1917 | MITCH |
| 350101 | SKIP | BA | M | 1/01/1927 | SLIPPERY JIM |
| 350189 | MERRY BOY | BL S | S | 1/01/1925 | ROAN ALLEN |
| 360121 | MERRY KING | BL | S | 1/01/1916 | MORELAND'S PRIDE |
| 370363 | GRACE DEMENT | SAB | M | 1/01/1922 | ROAN ALLEN |
| 410653 | SILVER FIZZ | SAB | M | 1/01/1923 | ROAN ALLEN |
| 992701 | *MAUDE DEMENT | | M | | MORELAND'S PRIDE |

Westwood Farms - Locust Dale, Virginia 22948 - stephanie@westwoodfarms.net - 540-825-1300