Merry Boy
(By Billy Taylor. Reprinted with permission from The Voice)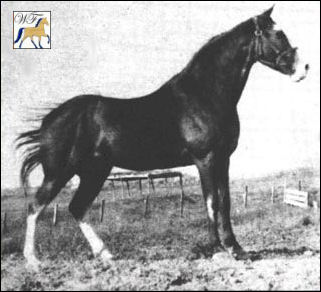 Merry Boy was foaled in the Wartrace community, Bedford County, Tennessee; the year was 1925. This area has been referred to as the Cradle of the Tennessee Walking Horse because so many great ones were produced there. Merry Boy's breeder and owner was Albert Dement; his sire was Roan Allen F-38, not only a great show horse during his lifetime but one of the greatest foundation sires of all time. His dam, Merry Legs F-4, was not only a great show mare, as was her half-brother, Roan Allen F-38, she was considered to be the best producing mare ever born in the Tennessee Walking Horse breed. She produced 13 foals, six stallions and seven mares. She produced five stallions that became very popular breeding stallions, including the great Merry Boy. The other four were Merry King by Moreland's Pride, Major Allen and Bud Allen by Mitch F-5, and Last Chance, her last foal by Hunter's Allen F-10.
Albert Dement owned Merry Boy until he was approximately eight years old. His first three foals were foaled in 1928, making Merry Boy on two years old when they were sired. Two were Ed Nowlin F-8 out of Little Maid and Neil Don out of Neil Dement F-, Merry Boy's grand dam. The breeder and owner of these two foals was Albert Dement. The other foal, born in 1928, was Monette's Dutchess, breeder was T.A. Chapman of Shelbeyville.
It was impossible to know exactly where Merry Boy was located during his early years. It appears from TWHBEA records that he was at Albert Dement's barn until sometime in 1928, when he was located in Ed Ward's barn in the New Herman community, in the southern part of Bedford County. While there he sired Byrom's Allen in 1929. It appears he was in the New Herman community until sometime in 1930. Merry Boy sired one foal in 1930; the breeder was F. Shelton and he had a Wartrace address, so it appears that Merry Boy was back at Albert Dement's sometime during 1930.
In 1931, Merry Boy sired two foals. The breeder of one foal was F. Bowden, with a Lewisburg, Tennessee address. The breeders of the other foal were Welch & Whitesell, no address given. It is possible that Merry Boyu was located at Culleoka during 1931, as alluded to by Bob Womack in The Echo of Hoofbeats. In 1932, Merry Boy sired four foals and according to the records, it appears he was back at Albert Dement's.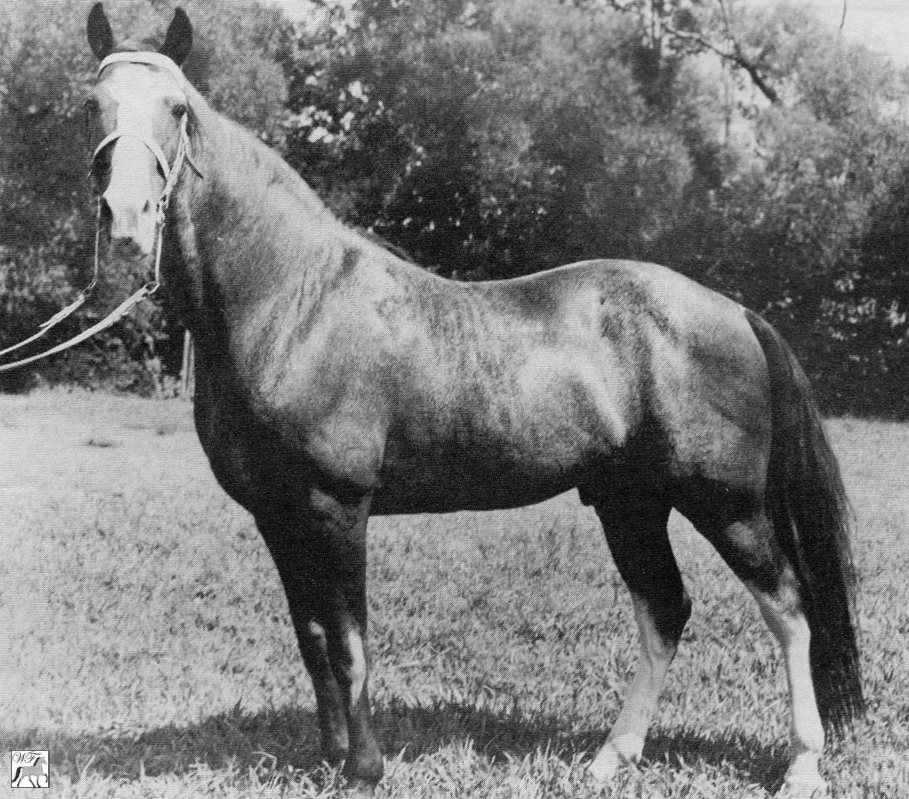 In 1933 Merry Boy was purchased by Mr. Addie Rhoton of the Awalt community, located in the northern part of Franklin County, Tennessee. Mr. Rhoton had a Tullahome mailing address which can make it confusing to the actual location of the Awalkt community. While the property of Mr. Rhoton, Merry Boy was worked in harness to a turning plow alongside a mule or draft horse and ridden under saddle regularly. This information was obtained Mr. Rhoton's son, A.B. Rhoton shortly before his death October 9, 1995. My uncle, P.O. Harrison visited the Rhoton's as a young man and on one occasion, rode Merry Boy. Clayton Ervin, a neighbor of mine, stated that he remembered Mr. Addie Rhoton riding Merry Boy to different farms, breeding him to mares there. Mr. A.B. Rhoton stated that his dad purchased Merry Boy when the horse was eight years old, and then sold him to Mr. Patton in the middle 1930's for $500. It was speculated the Mr. Patton was acting as an agent for Mr. J.L. McMichael in the purchase of Merry Boy.
Prior to being purchased by Mr. Addie Rhoton Merry Boy had sired only 19 foals during his first 8 years. While at Mr. Rhoton's, Merry Boy sired thirty foals in approximately two years.
Some of Merry Boy's first offspring to bring attention to him were Dement's Merry Legs, Ed Nowlin F-38, and Byrom's Allen. Dement's Merry Legs was foaled May 1, 1933, and by the time she was three years old, she had become a great show mare. Mr. Albert Dement, her breeder and owner, sold her to L.D. Rouse of Montgomery, Alabama for an unheard-of price in 1936 of $2,000. Also, E Nowlin F-8, foaled in 1928, was highly regarded as a breeding stallion, but died young at the age of six in 1934. Byrom's Allen, foaled May 1, 1930, was the other son that brought attention to Merry Boy. He was purchased as a foal by Mr. Roy Byrom, Moore County, Tennessee. Mr. Reagor Byrom, son of Roy Byrom, said that his dad, brother Albert, and himself were driving cattle along a dirt road in 1930 in the New Herman community and spotted Byrom's Allen and his dam in a pasture near the road. They liked the colt and purchased him at a young age. Mr. Reagor Byrom said that after Byrom's Allen became breeding age, that he would ride him to different farms and breed mares to him. On one occasion he rode him approximately 20 miles to Mr. Fount Ray's farm, in the Awalt community, to breed his mare.