A Daughter Keeps her Daddy's Legacy Alive
(By Mark McGee. Sunday, September 3, 2017. Reprinted with permission.)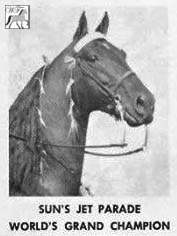 Sixty years ago, Vic Thompson was set to ride Sun's Jet Parade in the World Grand Championship on the Saturday night of the Tennessee Walking Horse National Celebration, but during the night before the black stallion decided to give an early preview.
"We lived on the Tullahoma Highway and rented a barn from S.W. Beech that was located where the Duck River Electric Company is now," Vic's daughter, Kathy Thompson, recalled. "The night before he won the stake we got a call and someone said, `Vic, we think your good black stud is running up and down the highway. Daddy got up and went and got him. Someone had let him out of the stall."
Thompson and Sun's Jet Parade would win the "big stake" in 1957. It would be the only time he would ride a winner to the roses and the world title.
Night to remember
"I was seven years old and that was the night of my seventh birthday," Thompson said. "My birthday is Sept. 7. Daddy's birthday was Sept. 1. Mother's was Aug. 22 so we kind of had them all together.
"I can remember Sun's Jet Parade was black. I remember Daddy made an excellent show. I remember Daddy showed him back the next year, and Mother told him not to do it, and of course he got beat. You win a few. You lose a few."
In 1969, Marvin Wilson, who was training with Thompson at the time, guided Ebony's Senator to the World Grand Championship in 1969.
Some of the other trainers who worked for Thompson during their careers are Joe Martin, Allan Callaway, Dude Crowder, Mack Motes and Jack Johnson.
"They all did a good job," Kathy said. "I am leaving so many of them out, but they all did what they had to do and they all made a good living working for Daddy."
Despite being involved with two World Grand Champions, neither horse was considered Vic's favorite.
"If my Daddy was sitting here talking to you he would say Mr. Sensation, a gelding, was the greatest horse he ever had his legs over," Kathy said. "He was awesome."
His legacy
Vic helped start the Walking Horse Trainers' Association, but his legacy would be the large number of juvenile and amateur riders he worked with and trained.
"Daddy was known for his amateur and juvenile riders," Kathy said. "That is the way I want him to be remembered.
"He was a very good teacher. To teach us to be balanced on a horse he took the stirrups away from us. You learned to grip real hard from your knees up."
Judy Tillett Young, Deedy Decker, Burt Daugette, Ann Daugette, Kathy and her sister Vickie Lynn, Shirley Schleicher and Juanita Darby are just some of the riders who collected world titles through the guidance of Thompson.
"Daddy was not a selfish person," Kathy said. "A lot of people thought he was. A lot of people didn't like him. And that was fine."
The rules
Kathy points to the rules of the barn that Thompson made sure everyone followed.
"The rules were the rules," Kathy said. "If you worked for him you got there at 7 a.m. and worked until 4 with an hour off for lunch. When he was ready to leave to go to a show you better be ready to go. He wasn't going to wait.
"When you came out to the barn to ride your horse you didn't wear shorts. You didn't go into the show ring chewing gum. You didn't go into the show ring with your hair hanging down. He would whistle from the box if we were doing anything wrong. And when he would whistle you better be listening."
She credits riders strictly adhering to those rules as one of the reasons they were so successful.
It would take some time before Kathy decided to ride.
"I had a horse fall on me as I was sitting and watching the Wartrace Horse Show," Kathy said. "In the box seats back then they would spread out blankets for the kids to sit on.
"I think it was Ed Carothers who came around the corner and slid into us. I was around 5 or 6. After that you couldn't get me on a horse."
I dare you
One day, during her freshman year of high school, Kathy walked into the barn which was then located on the Unionville Highway and Deedy Decker dared her to ride a horse.
"I was in high school then and you didn't dare me," Kathy said. "Daddy was on the phone and someone went into his office and told him, `Vic, Kathy is riding'. Daddy said, 'I've got to hang up.' After that they couldn't keep me off them."
Nothing was easy for Vic and his wife, Marilyn, as they started their walking horse business. In addition to a training facility they also operated an extensive breeding operation.
"When we first got here to Shelbyville we didn't have anything," Kathy said. "Mother and Daddy worked hard for every penny and everything they owned.
"It was hard for them. But they succeeded and did well. I was lucky to be raised the way I was."
Kathy has not ridden competitively in a couple of decades, but she is seriously considering a return to the ring.
"I have only won one Celebration blue ribbon and that was on a horse named Air Gun," Kathy said. "I just went into the ring to have a good time and ended up winning the class.
"It might be time to see if I can still ride. The last person to put me on a horse was Ernest Upton who was working for Marvin Wilson at the time. I don't have the confidence I used to have. I am sure it is like riding a bicycle, but I want to make sure I can do what I am supposed to do. Once it is in you, it stays in you."