Equine Obituary
(Reprinted from Article from the March, 1990 VOICE of the Tennessee Walking Horse)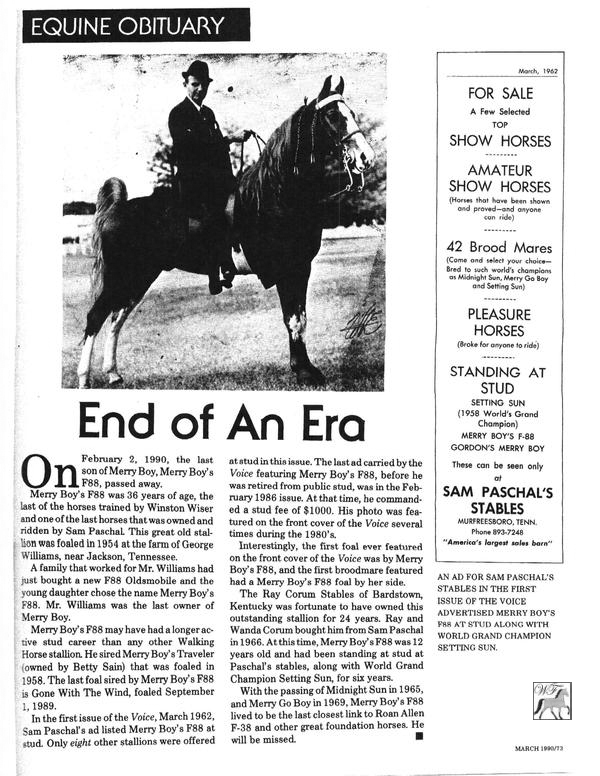 On February 2, 1990, the last son of Merry Boy, Merry Boy's F88, passed away.
Merry Boy's F88 was 36 years of age, the last of the horses trained by Winston Wiser and one of the last horses that was owned and ridden by Sam Paschal. This great old stallion was foaled in 1954 at the farm of George Williams, near Jackson, Tennessee.
A family that worked for Mr. Williams had just bought a new F88 Oldsmobile and the young daughter chose Merry Boy's F88. Mr. Williams was the last owner of Merry Boy.
Merry Boy's F88 may have had a longer active stud career than any other Walking Horse stallion. He sired Merry Boy's Traveler (owned by Betty Sain) that was foaled in 1958. The last foal sired by Merry Boy's F88 is Gone With The Wind, foaled September 1, 1989.
In the first issue of the Voice, March 1962, Sam Paschal's ad listed Merry Boy's F88 at stud. Only eight other stallions were offered at stud in this issue. The last ad carried by the Voice featuring Merry Boy's F88, before he was retired from public stud, was in the February 1986 issue. At that time, he commanded a stud fee of $1,000. His photo was featured on the front cover of the Voice several times during the 1980's.
Interstingly, the first foal ever featured on the cover of the Voice was by Merry Boy's F88, and the first broodmare featured had a Merry Boy's F88 foal by her side.
The Ray Corum Stables of Bardstown, Kentucky was fortunate to have owned this outstanding stallion for 24 years. Ray and Wanda Corum bought him from Sam Paschall in 1966. At this time, Merry Boy's F88 was 12 years old and had been standing at stud at Paschal's Stables, along with World Grand Champion Setting Sun, for six years. With the passing of Midnight Sun in 1965 and Merry Go Boy in 1969, Merry Boy's F88 has lived to be the last closest link to Roan Allen F-38 and other great foundation horses. He will be missed.