Ebony Masterpiece
by Sarah Gee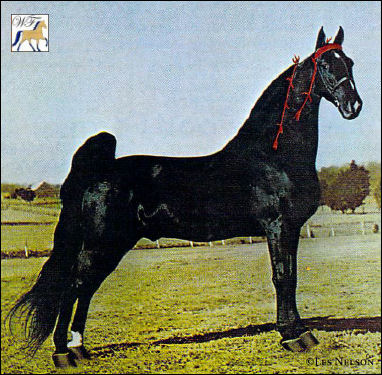 Ebony Masterpiece was bred by H. L. Worrell at the legendary Solitude Stock Farm in Goodlettsville, Tennessee. By Skipper's Son Of Midnight (a son of Midnight Sun) and out of Lady Lee (a daughter of Merry Boy), Ebony Masterpiece combined two of the most influential bloodlines our breed has ever known.
As a coming two year old, Ebony was sold to Clay Simpson of Bowling Green, Kentucky. He was placed under the direction of a young trainer by the name of Bud Seaton and with only a few shows to his credit, Ebony walked to the Two-Year-Old World Grand Championship in 1958.
Following his two-year-old year, Ebony was brought along slowly. He didn't show at all as a three year old and was not trained to canter until he was four. He was shown only once as a four year old.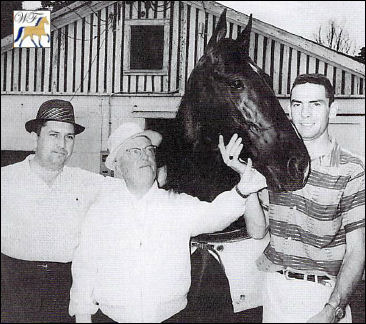 After seeing him shown as a five year old, Billy Hale of Gallatin, Tennessee, bought Ebony Masterpiece in July of 1961 and placed him with world grand champion trainer Sam Paschal. Paschal continued to bring Ebony along slowly. He and the big black stallion made their show ring debut in

late 1961,and by the summer of 1962 they were the favorites to claim the World Grand Championship, which they did with unparralled style.

Following his big win, Ebony Masterpiece went on to be come one of our breed's most prominent sires. He spent his entire breeding career at S.W Beech & Son's Stables in Belfast, Tennessee. Ebony was early to prove him self as a sire as his first crop of foals included 1969 World Grand Champion Ebony's Senator. He would go on to sire four more World Grand Champion Tennessee Walking Horses - 1974 World Grand Champion Another Masterpiece, 1975 World Grand Champion Ebony's True Grit, 1980 World Grand Champion Ebony's Mountain Man, and 1983 World Grand Champion Ebony's Bold Courier.

In 1978, Ebony Masterpiece was purchased by S.W. Beech, Jr., and Steve Beech. At the end of that year, ownership was transferred to Floyd Perkins. Finally, in 1980, S.W. Beech, Jr., and Steve Beech gained ownership once again. Ebony Masterpiece passed away in 1987, at the ripe old age of 31. Throughout his life he was a crowd favorite, often attracting visitors to Beech Stables, where he was happy to interact with his fans. He is buried alongside Merry Go Boy at the farm in Belfast.