Some horses, like some people, are always late. The story of TRIPLE THREAT, 1965 World Grand Champion Tennessee Walking Horse, now standing at stud in Kentucky, is a good example. Everything that ever happened to him was late. He was a late colt. He was not registered until 1961, five years after he was born. He did not get any consistent training under saddle until he was a five-year-old. He did not win the Celebration until 1965, after trying three times.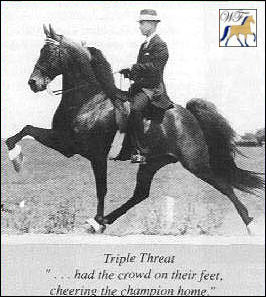 His ability as a breeding stallion was not recognized until almost five years after he was retired.
In spite of the fact that he was always a little behind schedule, TRIPLE THREAT always attracted the attention and acclaim of knowledgeable horsemen. His breeding, size, natural walking ability, conformation and many other attributes prompted no less than a dozen owners to invest in him over the years. The amount these people were willing to invest ranged from $1,200 when he was a youngster to more than $100,000 shortly after he won the Celebration. Along the way he becamet he object of much discussion and brought $43,000 at the Murray Farm Sale in the spring of 1965. It is estimated that in his eighteen years, more than a quarter of a millon dollars has changed hands along with the pedigree and ownership rights to TRIPLE THREAT. He might have been a "day late...but he was never a dollar short!"
TRIPLE THREAT was originally owned by Robert S. Ellis of Amite, Louisana. He was foaled May 1, 1956 and was out of a fine mare named TENSA'S GYPSY GIRL and by a popular stallion named
SUN'S QUARTERBACK
. It was a perfect blend of foundation blood that produced a unique specimen of the Tennessee Walking Horse. He was purchased as a yearling by Gaynell "Gus" Tensley, former football coach and All American at LSU.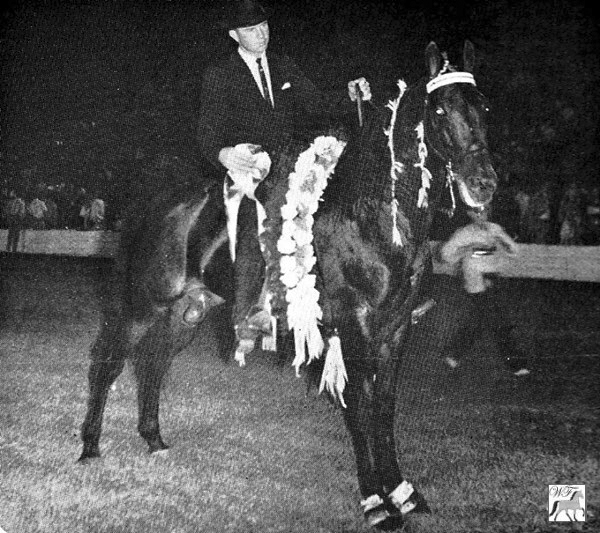 It was not until his transaction that TRIPLE THREAT was registered. He was then a five-year-old and no one really knew much about his background.
It is said that hew as broke to ride by Digby Palmer, who was then working horses in Amite, Louisiana, but was never trained for showring activity as a young horse. One story says that he hurt his leg and was turned out to pasture and virtually forgotten for several years. The first time he was shown was in 2961 and he won the blue at Nacogdoches, Texas with Gus Tensley in the saddle. At this point he began to attract some attention and was purchased by J. Glen Turner of Dallas, Texas. Harold Kennedy was head trainer at the Circle T Ranch of the Turners' and was quickly attracted to the big-lick bay stallion.
At this point the fortune of Circle T Ranch was on the rise. They had purchased some top horses and were very active in both open an amateur competition.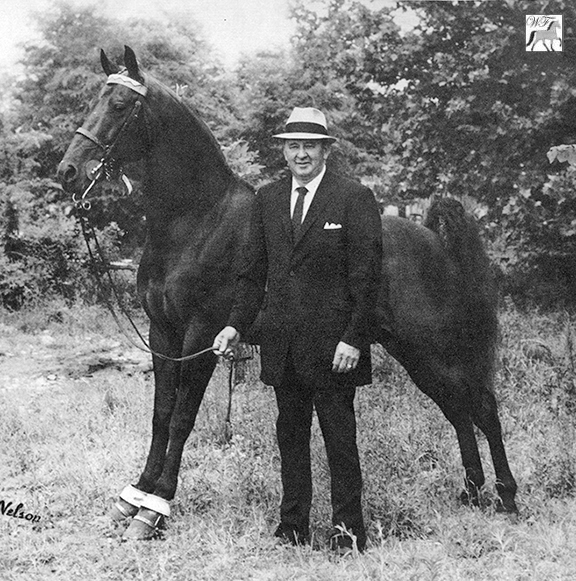 Harold Kennedy was at the top of the heap as far as training was concerned. His stock was winning and they were "Celebration bound" in 1962. TRIPLE THREAT was originally scheduled to be shown by Mr. Turner in the amateur class but this was changed at the last minute and Harold Kennedy showed this unknown bay stallion to tie fourth in the stallion class and fifth in the big stake. At this point, the showring career of TRIPLE THREAT was launched in earnest.
Nineteen sixty-three was to be an ambitious year for both Harold Kennedy and TRIPLE THREAT. They would travel over sixteen thousand miles frm the Florida circuit throughout the southwest and on into Tennessee prior to the Celebration. TRIPLE THREAT became the leading contender in everybody's book as he mowed down on opponent after another. The elusive crown was to be denied in 1963, however, as
SUN'S DELIGHT
won the title with Same Paschal in the saddle. The next season was to be more of the same as the popular contender was again tied reserve. This time to
CARBON COPY
, with Joe Webb up.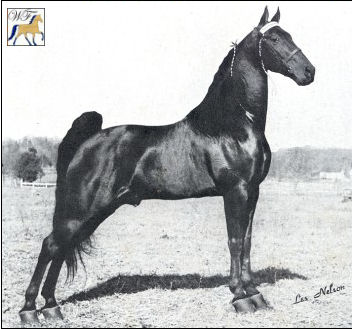 The 1964 trip was made under new ownership, however, as Mr. Turner had sold all of his horses and literally "got out of the business" after the Celebration the previous year. Most of his stock was purchased in a package by Pat Kimbrough of Murphreesboro, Tennessee, and TRIPLE THREAT was eventually sold in the spring of 1964 to a trio of Carolina horsemen. Abernathy, Clement and Sherill become the proud owners of the nation's number one contender and once again launched a campaign toward the world title. He was worked through the early season by a trainer named Sam Cecil, who was then working at the Clement Stables in Hickory, North Carolina. As the mid-season approached, they decided to put him back in training with the man who knew him best - Harold Kennedy.
After his defeat in 1964, TRIPLE THREAT became the object of much discussion. His owners decided to sell him at the spring Murray Farm Sale in 1965 and with trainer Buddy Black in the saddle, he topped all records with a bid of $43,000. He became the property, if only briefly, of Hank Sheely of Dallas, Texas. Shortly after the sale he was purchased by Joe Wright of Nacogdoches, Texas and put with Steve Hill in Beech Grove, Tennessee. Steve showed him successfully at the Manchester, Tennessee show and proved to many onlookers that the big bay was still a contender. Shortly after this, it was announced that he would be put in training with Douglas Wolaver of Cornersville, Tennessee in preparation for the 1965 Celebration.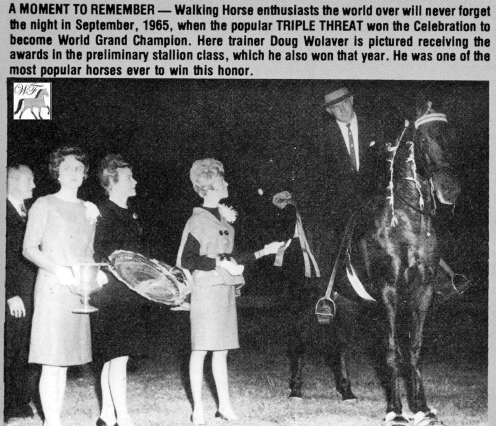 The record books now show that this was to be the year. Doug carried TRIPLE THREAT to the Celebration arena undefeated. His performance was superb and it was the "Wolaver touch" that appearantly made the difference. He became the 1965 World Grand Champion and was retired to stand stud at the Harold Wise Stables in Lewisburg. Once again, the attraction of TRIPLE THREAT prompted men to part with their money and he became the object of a three-way partnership as Bob Guinn of Savannah, Tn. and Al Kroesche of San Antonio, Texas purchased two-thirds of the new champion.
In June of 1966, after getting off to a fine first season as a major breeding stallion, TRIPLE THREAT was sold to Ellen Metzger and Gotlob Koenig of Port Orange, Florida. The price was reported to be in excess of $100,000 and supposedly the highest price ever paid for a Tennessee Walking Horse at that time.
For the next five seasons TRIPLE THREAT was the feature attraction of the WIse Stables. His stable-mate was this own sire,
SUN'S QUARTERBACK
. As the seasons passed, the get of TRIPLE THREAT made substantial progress in the showring, but it was obvious that something was missing. For some reason they just couldn't seem to fit the pattern that was established for the breed at that time. He was bred to a lot of mares in those five years, however, and produced a lot of fine colts.
The problem appeared to be that most of these colts were somewhat like their sire. They really didn't come on until they got some age and some size. As yearlings, they did not possess the qualities that one looks for in a halter colt, although some did well in this category. As two-year-olds, they were big and rangy...lacking the capability to "make in a hurry" and compete with others their age.
But...as time passed it became apparant that more and more TRIPLE THREAT horses were arriving to the top. They were the three-year-olds, junior horses and aged horses that were late comers as youngsters. As many of the fancy two-year-olds by other stallions dropped by the wayside and were never heard from again, the colts by TRIPLE THREAT kept getting better and better. The trends of the breed gradually changed and the "sound" horse became a necessity and TRIPLE THREAT horses appeared to come out of the woodwork. Soon, TRIPLE THREAT was once again attracting attention as the Walking Horse world became aware of the potential of his colts.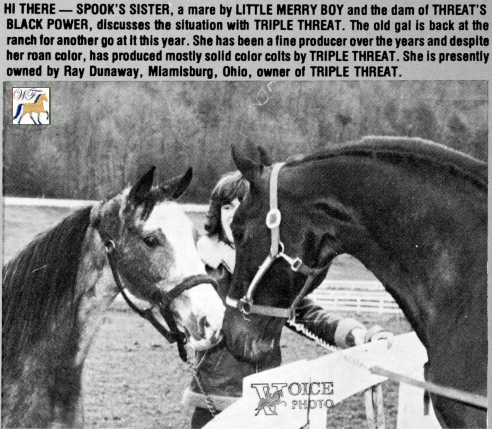 In May of 1972, TRIPLE THREAT once again became the object of a major transaction in the Walking Horse business. He was purchased by Mr. Ray Dunaway of Miamisburg, Ohio and was immediately moved to Van Bert Farms in Stanton, Kentucky to be managed by H.T. Derickson. His first season at stud in Kentucky was most successful. They topped all previous seasons for the number of mares bred and his new owner went all-out to promote his stallion and his colts. Horsemen from middle Tennessee were making regular trips from the center of activity to Kentucky to breed to the 1965 champion. He was getting better and better mares and a high percentage of them in foal. 1973 proved to be even more successful and at last it looked as if TRIPLE THREAT was finally on the way as a stud.
A dramatic peak was reached at the 1973 Celebration that catapulted TRIPLE THREAT into the spotlight once again. The three-year-old championship was won by THREAT'S BLACK POWER with trainer Bill Bailey in the saddle for owner Ray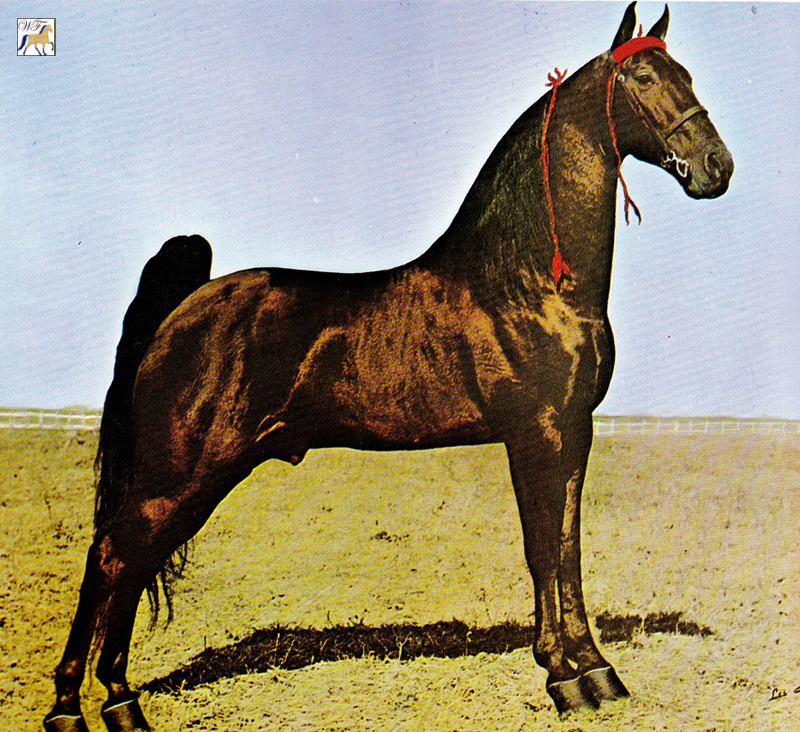 Dunaway. This horse was considered one of the top performers ever seen at the Celebration and it climaxed a season that saw many horses by TRIPLE THREAT go to the winner's circle. The recent sale of THREAT'S BLACK POWER for a record high price also helped the career of his sire as more and more mare owners are making their bookings early for the big bay stallion.
Another major change recently took place as owner Dunaway announced that his popular stallion would stand in the 1974 season at the Herb Roberts Stables in South Irvine, Kentucky. The move was prompted by a lease agreement arrived at between Dunaway and Roberts. TRIPLE THREAT is now on a five year contract to Roberts Stables, and will continue to stand there throughout his contract.
A recent visit to Roberts Stables indicates that 1974 will be the best year ever for TRIPLE THREAT. His popularity is on the upswing and the horsemen of Kentucky are appreantly taking a great deal of pride in the fact that TRIPLE THREAT is now in their state. Many people have purchased mares in the last year for the expressed purpose of breeding to THREAT and an even larger number of mares from Tennessee are scheduled to make the trip to his court.
As the 1974 show season gets underway, the momentum of TRIPLE THREAT's new popularity will begin to be felt. More and more horses with the "THREAT" label will be in the showring and they should be top winners. The price of his colts should upswing as the natural lick becomes more dominant.
An investment in a THREAT colt at this time could very well be the best investment that a horseman could make. After all...he may have been "a day late...but he was never a dollar short!"