Reference: Pride's Secret Threat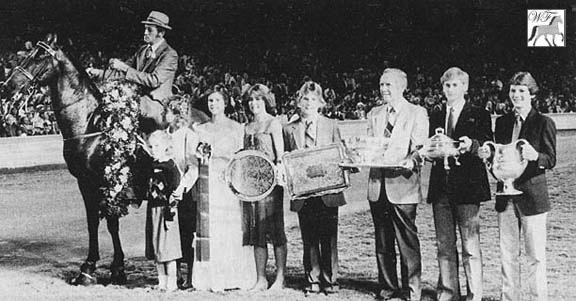 *From the 1983 Edition of "The Blue Ribbon"
Pride's Secret Threat: The Late, Great World Grand Champion of 1982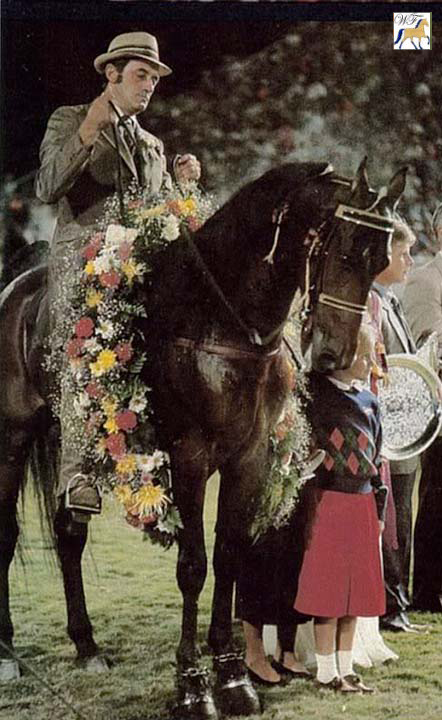 Our BLUE RIBBON cover for this year follows the long tradition of this official annual yearbook in featuring the previous year's World Grand Champion Tennessee Walking Horse. This time, though, there if a difference. This is the first time, so far as memories and research can ascertain, that the previous year's winner of the breed's top honor is depicted posthumously, Pride's Secret Threat the great champion of the Walking Horse show ring and breeding court, died March 16, 1983.
The beautiful bay stallion, only six years old, had built a legacy that will stand as a challenge to future contenders. Never before, in the previous 43-year history of the Tennessee Walking Horse National Celebration, had any horse won them all--World championships as a two year old, as a three year old, Junior World Grand Championship as a four year old and World Grand Championship as a five year old.
His prowess as a sire promised equally great attainments. His breeding seasons produced a total get of more than 200 foals, some yet unborn. Both his heritage and his show ring successes presaged possible production as a sire that could rank with that of his grand sires, Midnight Sun and Triple Threat.
His own sire was Pride of Midnight, out of Triple Threat's Rose. He was foaled May 16, 1977 at C.A. Bobo & Sons Stables, Shelbyville. When he went under saddle there, he caught the eye of Billy Gray who helped negotiate the purchase of the young stallion by Billy Hale of Gallatin, Tennessee.
This was the start of the inseparable association of Billy Gray and Pride's Secret Threat that only ended with the death of the stallion. Billy Gray trained and rode the young stallion to his first blue ribbon at the National Trainer's Show in 1979. The pair went undefeated into the Celebration that year and despite a reserve tie in the preliminary, they came back strongly to win the two year old World Championship. After winning the three year old championship at the 1980 Trainers' Show, Secret Threat was sold to Sand Creek Ranch for a reported $125,000.
Under the joint ownership of Billy Gray and the Sand Creek Group of California, the trainer-rider and the stallion won both the preliminary and the threee year old Championship Stake at Celebration '80.
The team swept through the 1981 season, again undefeated, with wins at Bowling Green, Kentucky; Gallatin, Joelton, Bethesda and Belfast, Tennessee, to go into the Celebration as a favorite four year old. A disappointing preliminary round for the team apparently set the stage for one of the greatest performances of their collective careers in winning a unanimous decision for the Junior World Grand Championship.
Then, on Saturday night, September 4, 1982, Billy Gray and Prides Secret Threat strutted to a sweep of first places votes on the cards of Celebration judges. Winning the World Grand Championship climaxed a sensational show ring career for the team.
Although Secret Threat's stable is now empty, the great stallion lives on in the memories of his owners, trainer and fans....and in the blood and genes of his progeny. Engraved in the marble of his monument, his epitaph expresses the spirit of Pride's Secret Threat:
Do not stand at my grave and weep;
I am not there. I do not sleep.
I am a thousand winds that blow
I am the diamond glints on snow
I am the sunlight on ripened grain.
I am the gentle autumn's rain.
When you awaken in the morning's hush,
I am the swift uplifting rush
Of quiet birds in circled flight
I am the soft stars that shine at night
Do not stand at my grave and cry,
I am not there. I did not die.
PRIDE'S SECRET THREAT
TWHBEA #773242

DOB: 5/16/1977
DOD: 3/16/1983

COLOR: BAY
MARKINGS: NONE

PRIDE OF MIDNIGHT H.F.


TWHBEA #661459
COLOR: BLACK


MIDNIGHT SUN


TWHBEA #410751
COLOR: BLACK


WILSON'S ALLEN


TWHBEA #350075
COLOR: CHESTNUT


RAMSEY'S RENA


TWHBEA #410682
COLOR: BAY
MARKINGS: NONE

PRIDE OF STANLEY


TWHBEA #472897
COLOR: CHESTNUT SABINO
MARKINGS: BOTH HIND STOCKINGS, BALD, MIXED MANE AND TAIL.


MERRY MAKER


TWHBEA #410944
COLOR: CHESTNUT

SABINO




MARKINGS: BOTH HIND AND NEAR FORE STOCKINGS, OFF FORE CORONET, BLAZE, FLAX MANE/TAIL.

PATSY DELBRIDGE


TWHBEA #

443146




COLOR: BAY




MARKINGS: STAR, SNIP.

TRIPLE THREAT'S ROSE
TWHBEA #702610
COLOR: BAY
MARKINGS: BOTH HIND SOCKS, STAR.
Triple Threat
TWHBEA #612233
COLOR: Bay

SUN'S QUARTERBACK
TWHBEA #501780
COLOR: BAY
MARKINGS: NONE

TENSAS' GYPSY GIRL
TWHBEA #431345
COLOR: BAY
MARKINGS: BOTH HIND STOCKINGS, BLAZE.
ALLEN'S GLORY LADY
TWHBEA #657167
COLOR: CHESTNUT SABINO
MARKINGS: FOUR STOCKINGS, ON OUTSIDE NEAR KNEE, LOWER LIP, BALD, FLAX MANE AND TAIL.
GLORY'S SENSATION
TWHBEA #510701
COLOR: CHESTNUT SABINO
MARKINGS: FOUR STOCKINGS, BALD, FLAX MANE AND TAIL.
MILLERS FANCY GAL
TWHBEA #481304
COLOR: CHESTNUT
MARKINGS: OFF HIND FETLOCK, ON INSIDE NEAR HIND CORONET, STAR, STRIP.
NOTABLE OFFSPRING

Westwood Farms - Locust Dale, Virginia 22948 - stephanie@westwoodfarms.net - 540-825-1300