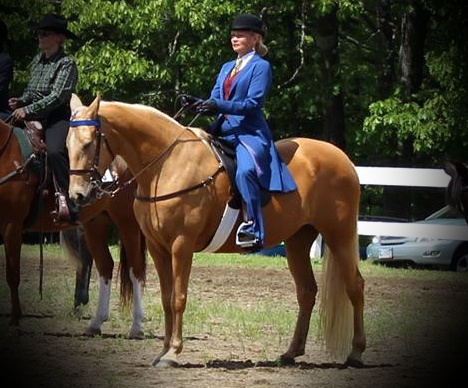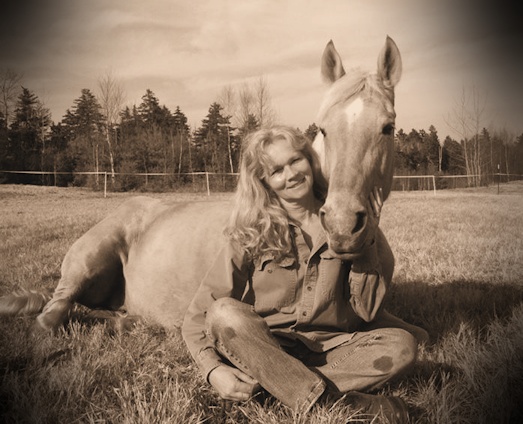 Sunbeam was the product of two of the best bred palomino Tennessee Walking Horses in the industry. Her sire was a son of Ebony Masterpiece and out of a daughter of Midnight Mack K. Sunbeam's dam was the only known palomino daughter of Triple Threat!
She had a beautiful head with large, kind eyes and expressive ears. As you can see, "Beamer" had an exceptionally deep heart girth and great shoulder and hip angles. This enabled her to really strut her stuff. He coloring was simply stunning, too: a deep, rich butterscotch gold with a snow white mane and tail. She stood out wherever she went!
Beamer was registered KMSHA & TWHBEA. She was shown in model, extensively trail ridden, foxhunted and hilltopped. Her wonderfully smooth gaits and bright, funny personality made her a joy to ride!
Beamer was born in Vermont at Outtaqueechee Farm, where her sire, Ebony's Mark of Gold, stood for many years. She was sent to Walkers West as a three year old for training. We ended up purchasing her while at Walker's West and had her bred to their stallion, The Gold Rush Is On. Unfortunately, we didn't get a foal.
We tried for many years to get Beamer in foal. We bred her via artificial insemination to several different stallions before we started standing Golden Gambler, but we were not able to get a foal. We had nearly given up and decided to turn her out with Gambler. In the Gambler's herd, we discovered an interesting hierarchy: Gambler had his wife (Beamer), his "mistresses", and his "secret girlfriends." Beamer, as his "wife" - had the greatest status. She openly groomed him, shared his food, and could move any other mare away from him by pinning her ears. The mistresses were allowed to spend limited time with him, groom him as long as Beamer didn't see, but could not share food and had to stay out of Beamer's way. The secret girlfriends could not even get close to Gambler, and had to sneak off away from the herd to breed. This natural environment allowed Beamer to become pregnant
Beamer had her first baby too close to the fence. The buckskin filly managed to slip under the fence and away from her Mama...and tragically, a bear used that opportunity to steal the filly. A forensic biologist came to the farm and showed us exactly what happened after we found the body. Typically, black bears won't bother a horse, but they are opportunistic and with the Mama being unable to get to the baby to defend her, the bear grabbed her. From that day on, my whole herd developed a HATRED for bears. To this day, even though most of the original herd members are gone, Gambler drives the herd into "high alert" every time a bear is in the vicinity, where before they were met with only mild interest.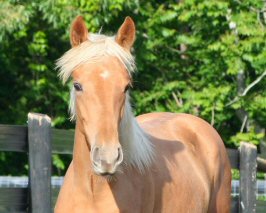 Beamer's second baby was her little palomino clone, Gambler's Gold Threat WF (pictured at left as a yearling.) More about him later...
Beamer's third baby was a buckskin filly who died before weaning.
We were blessed to own Sunbeam for nearly half of her life...and blessed again to have Elisabeth Taliento join our family when she purchased her "Miss Scarlet" from us. We never felt like she was gone - only off having grand adventures with E!
It was clear from the beginning that they were a match made in heaven. E and Scarlet adored each other from the start. They suited each other perfectly, even in looks! I used to tease E about them being "Barbie Dolls."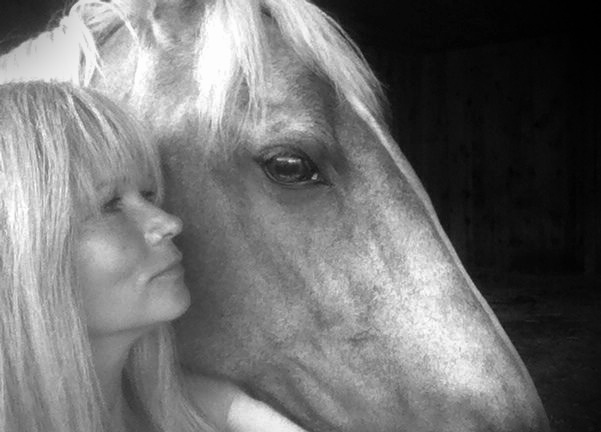 Their bond was so much deeper than that, though. E was so in sync with Scarlet - she knew when she was even the smallest bit "off" and no mountain was too high for her to climb for Scarlet. ET was her biggest advocate and one of the most devoted "horse moms" you'll ever meet. She always did what was best for Scarlet, even to the very end.
On September 26, 2013, Scarlett passed away. She had developed cancer, but she didn't suffer long - E wouldn't allow that. She loved her too much. Scarlet lived a beautiful life during the 17 years she walked this planet. She was well loved, and she knew it. We loved her here at Westwood, but she was truly "E's Horse." Soulmates. Writing this, my heart is broken for E. Death is hardest on those left behind. Even though we know she has gone on to a better place, realizing that there will be no more friendly nickers or bright eyes searching for her friend is difficult. We send E all of our love, prayers and wishes for comfort. Scarlet brought us together and made us family. For that, we'll always be thankful.
This lovely story does not have a sad ending. While Scarlet is gone, her legacy lives on! After spending a good deal of effort trying to locate Beamer's only living offspring, we found him! He was owned by Howard Harris of Montgomery, Pennsylvania. I managed to get Elisabeth in touch with him and he graciously allowed Elisabeth to purchase him. They met at our farm and Elisabeth purchased Sunny and brought him home. He now carries on in his mother's footsteps. E and Sunny have been training, trail riding and showing together.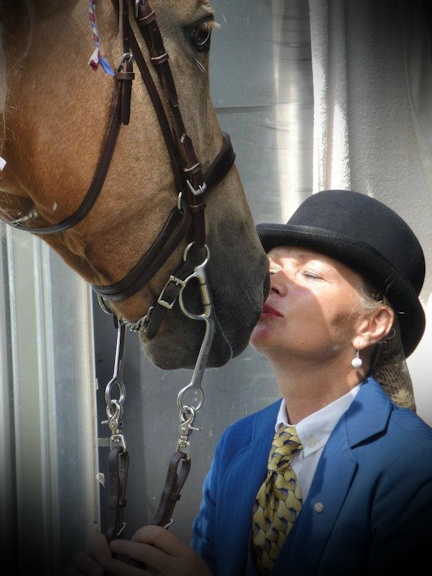 ONLY THE BEST
posted by Tami McCurdy Taliento
God saw you and you were getting tired
And a cure was not to be
So he put His arms around you
and He whispered "come to me"
A golden heart stopped beating
Hard working hooves went to rest
God broke our hearts to prove to us
He only takes the best

You gave me my magic moments
the wind whipped through my hair
You were the one when i was sad that was always there
I know you will always be with me as you have been, from the start
And there will always be your hoof prints left upon my heart
Eb's Sunbeam

KMSHA #A200612044
TWHBEA # 960951
RHBAA #963641

DOB: 05-20-1996
DOD: 09-26-2013

SEX: MARE

COLOR: PALOMINO
MARKINGS: STAR

GENOTYPE:
[ee NCr]

HEIGHT: 15.2H

EBONY'S MARK OF GOLD
TWHBEA #813047

Color: PALOMINO
MARKINGS: STRIP, WHITE MANE AND TAIL.

HEIGHT: 15h
EBONY MASTERPIECE
TWHBEA #560586 COLOR: BLACK

SKIPPER SON MIDNIGHT
TWHBEA #463561 COLOR: BLACK
MARKINGS: STAR


MIDNIGHT SUN


TWHBEA #410751
COLOR: BLACK

PRINCESS ALLEN
TWHBEA #360111 COLOR: CHESTNUT
MARKINGS: BOTH HIND STOCKINGS, BLAZE.
LADY LEE
TWHBEA #400680
COLOR: BAY
MARKINGS: FOUR STOCKINGS, STRIP.


MERRY BOY


TWHBEA #350189
COLOR: BLACK SABINO

KATE TURRENTINE
TWHBEA #400679 COLOR: BAY
MARKINGS: FOUR FETLOCKS, STAR.
MACK K'S WONDER
TWHBEA #694747
COLOR: PALOMINO
MARKINGS: STRIP, WHITE MANE & TAIL.
MIDNIGHT MACK K.
TWHBEA #490450
COLOR: CHESTNUT


MIDNIGHT SUN


TWHBEA #410751
COLOR: BLACK

PANOLA
TWHBEA #390027 COLOR: SABINO
MARKINGS: FOUR STOCKINGS, NEAR JAW, BALD.
LADY CINDY III
TWHBEA #611238
COLOR: PALOMINO
MARKINGS: OFF HIND STOCKING, NEAR HIND SOCK, INSIDE OFF HOCK BLAZE, WHITE MANE & TAIL.
CREAM CHANCE
TWHBEA #581394
COLOR: "YELLOW"
MARKINGS: BOTH HIND STOCKINGS, STRIP.
FANCY'S GOLD LADY
TWHBEA #590177
COLOR: "YELLOW" SABINO
MARKINGS: FOUR STOCKINGS, UNDER LIP, BALD, WHITE MANE & TAIL.

THREAT'S PALOMINO


TWHBEA #764148
DOB: 6/15/1976 COLOR: PALOMINO SABINO
MARKINGS: BOTH HIND STOCKINGS, BALD.

Triple Threat
TWHBEA #612233
COLOR: Bay

SUN'S QUARTERBACK
TWHBEA #501780
COLOR: BAY
MARKINGS: NONE

MIDNIGHT SUN


TWHBEA #410751




COLOR: BLACK



ALLENS LITTLE JOE'S DIMPLE
TWHBEA #410201
COLOR: CHESTNUT
MARKINGS: NEAR HIND AND OFF FORE STOCKINGS, OFF HIND CORONET, STAR, FLAX MANE AND TAIL.
TENSAS' GYPSY GIRL
TWHBEA #431345
COLOR: BAY
MARKINGS: BOTH HIND STOCKINGS, BLAZE.
WARTRACE
TWHBEA #360154
COLOR: BAY
JENNETTE LIGHTFOOT
TWHBEA #390615 COLOR: CHESTNUT SABINO
MARKINGS: FOUR STOCKINGS, GIRTH, BELLY, BALD, FLAX MANE AND TAIL.
GO BOYS BLACK ORCHID
TWHBEA #634220
COLOR: SMOKEY BLACK SABINO
MARKINGS: BOTH HIND STOCKINGS, NEAR FORE SOCK, ON OUTSIDE OFF FORE CORONET, ON OFF SIDE, BALD.
EASTERS GO-BOY
TWHBEA #490719
COLOR: CHESTNUT
MARKINGS: ODD HIND SOCK, STAR, STRIP, SNIP, MIXED TAIL.
MERRY GO BOY
TWHBEA #431336
COLOR: BLACK

EASTER PATTON
TWHBEA #431087
COLOR: CHESTNUT
MARKINGS: BLAZE, FLAX TAIL.
ADCOCK'S FIRST LADY
TWHBEA #600407
COLOR: "YELLOW" (CREAM)
MARKINGS: BOTH HIND SOCKS, OFF FORE CORONET, STAR.
REX MERRYMAKER
TWHBEA #560610
COLOR: CHESTNUT SABINO
MARKINGS: BOTH HIND AND NEAR FORE STOCKINGS, BALD, FLAX MANE AND TAIL.
CHANCE'S FIRST LADY
TWHBEA #600406
COLOR: "YELLOW" (CREAM)
MARKINGS: BOTH HIND SOCKS, STAR.
Foals Produced

Westwood Farms - Locust Dale, Virginia 22948 - stephanie@westwoodfarms.net - 540-825-1300