Merry Wilson: A Mare Without Equal
(BY Sarah Gee from Walking On Volume 1 Issue 1)
Merry Wilson was the last great show horse produced by the wildly successful, experimental breeding program of the legendary Albert Dement of Wartrace, Tennessee. Foaled in May of 1939, she was by Wilson's Allen and out of Lady Chance who was by Last Chance and out of Nell Don. At only a few weeks old, she caught the attention of Charles and Polly Hawkins who were quick to by a half interest in her. When she was six months old, the filly was weaned, moved to the Hawkins farm in Woodbury, Tennessee, and given the name Merry Wilson.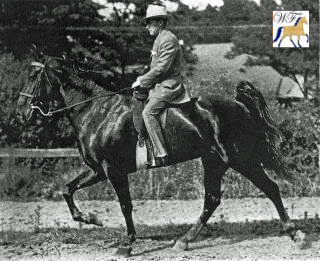 According to Mr. Hawkins, Merry Wilson was the loosest foal he had ever seen. He was quoted as saying that she was so loose and had such a big stride that when she would walk around the pasture she would just about fall apart. Encouraged by the young mare's natural ability, the Hawkins kept her at their place and broke her to ride as a two year old. She made her show ring debut as a three year old with Charles Hawkins at the Murfreesboro, Tennessee show where she earned a fourth place tie. She was then sent to Haynes Haven Farm to work under the tutelage of Billy Grubbs. Unfortunately, the mare contracted pneumonia and had to be returned home.
Once she recovered she was sent to renowned trainer Floyd Carothers at Wartrace. In their debut at the Franklin, Tennessee horse show, Carothers and Merry Wilson were an unimpressive third. Their next outing, however, had quite a different outcome. In a class full of outstanding three-year-old mares at the Shelbyville, Tennessee PTA show, she walked to victory and impressed everyone in the crowd. Shortly after their successful performance, Floyd Carothers left to train for Rambo Stables of Fayetteville, Tennessee, and Merry Wilson returned home to Woodbury.
Mr. Hawkins' second attempt at showing Merry Wilson met with little success as the mare refused to canter. So, after a brief reunion with Billy Grubbs, she found herself, along with her billy goat stablemate, at Steve Hill's barn in Beechgrove, Tennessee. According to Tennessee Walking Horse industry lore, after arriving at Hill's, Merry Wilson solidified her reputation as a very cantankerous and particular mare.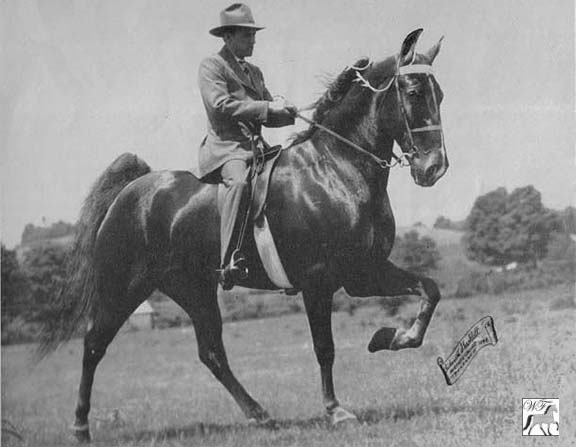 After working her for a few weeks, Hill made his first show with Merry Wilson at Fayetteville. She placed second to City Girl but was clearly the winner as far as the spectators were concerned. Following this show, the mare became the breed's newest star. She made such an impact that the morning after the Fayetteville show Floyd Carothers bought Merry Wilson for Frank Rambo for $3,500 (Adjusted for inflation to 2014:$46,877.67). She was sold a short time later to Dr. and Mrs. J. W. Werner of Jonesboro, Arkansas, and placed in training with J. B. Smith at Pointer Stables in Como, Mississippi. Smith showed Merry Wilson to numeroublues during the 1944 season.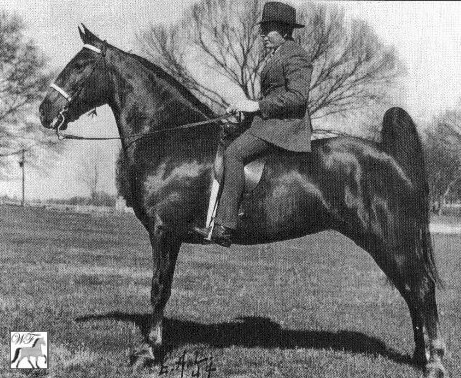 In her first and best shot at the World Grand Championship at the 1944 Celebration, Merry Wilson imploded. After an exemplary performance in the mare preliminary that made her the odds-on favorite to win the stake, she walked into the grand championship class and acted up to the point that she had to be taken from the ring.
She went on the win the mare class at the Celebration a whopping five consecutive times, a feat still unequaled, but she was never able to lay claim to the ultimate title. In 1945 she was up against horse of the century Midnight Sun, in 1946, after returning to Steve Hill's barn, an oversight left her off the entry sheet for the big stake, and in 1947 and 1948, after being sold to Bob Cunningham for $25,000 (adjusted for inflation to 2014 $270,987.20), she vied for the title against the great Merry Go Boy.
Despite her inability to win the World Grand Championship, Merry Wilson was indeed one of our breed's great show horses, winning close to 100 blue ribbons. She is remembered by those who saw her as having the best flat walk of all time. According to Tennessee Walking Horse historian Dr. Bob Womack, who listed her as one of our breed's greatest rep - resentatives, "She was undoubtedly the greatest mare I ever saw."