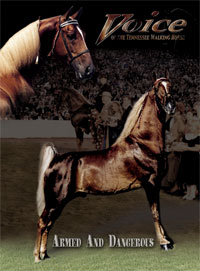 Armed And Dangerous - The Complete Package
(Reprinted with permission from Voice of the Tennessee Walking Horse magazine, August/September, 2001)
By Sarah Gee © Voice, December 2005

What more is there to say about Genís Armed And Dangerous? His name is virtually synonymous with show ring success. He is a World Grand Champion and a World Grand Champion producer. He has impeccable bloodlines, conformation, and natural ability. His beauty is legendary and his disposition is second to none. In other words, he is a mare ownerís dream come true.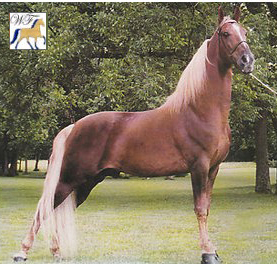 Ridden by trainer Russ Thompson to the 1994 Tennessee Walking Horse World Grand Championship, Genís Armed And Dangerous has secured himself a place among our industryís elite breeding stallions. His foals are among the most sought after horses in the marketplace and his ratio of mares bred to foals born is one of the highest on record. His offspring have found show ring success in just about every region of the country and in every division Ė from trail pleasure to performance. This 2004/2005 Leading National Futurity Money Earning Sire was honored by the Tennessee Walking Horse Breedersí And Exhibitorsí AssociationSM as the 2004 Sire of the Year based on total points. And, as 2005 draws to a close, he is one of the top contenders for that honor once again.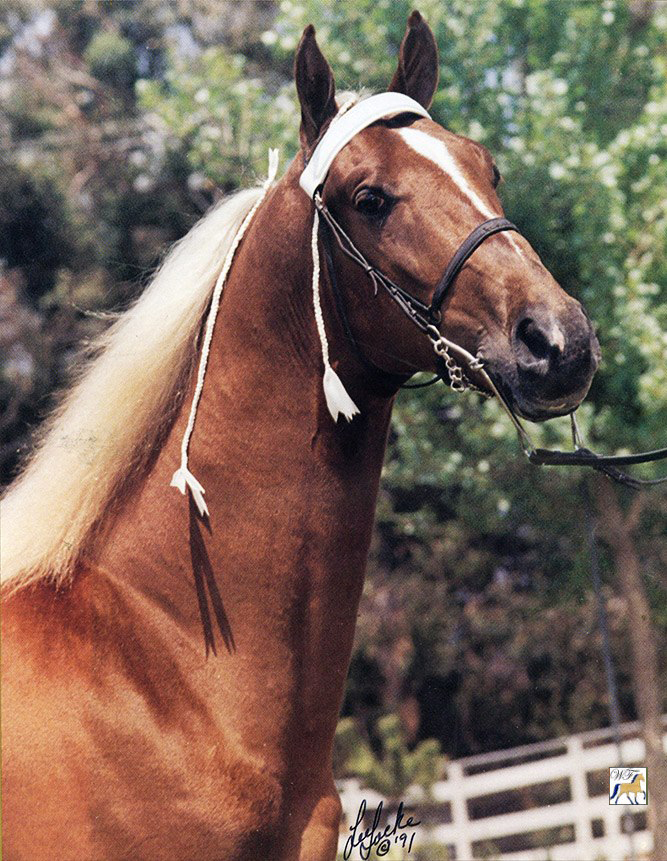 Genís Armed And Dangerous was bred by B.G. Alford of Oxford, Mississippi and is now proudly owned by George and June Brown of Hillsboro, TN, Charles and Shirley Hulsey of Cullman, AL, Jim and Bonnie Moon of Lewisburg, TN, and Jerrold and Melissa Pedigo of Murfreesboro, TN. He is by the immortal Prides Generator and out of Melana Ebony who was by the great Ebony Masterpiece and out of a direct daughter of Merry Go Boy. In addition to the 1994 title, his show record includes the 1991 Two-Year-Old Reserve World Grand Championship, the 1992 Three-Year-Old World Grand Championship, and the 1993 Four-Year-Old Reserve World Grand Championship. Since making the ultimate spotlight ride in 1994, Armed has proved time and time again that he is extremely capable of passing on his championship traits. A listing of his offspring reads like a whoís who of blue ribbon winners. Horses such as Armed Red Baron, Armed To Show, Itís Up In Arms, Itís Billy The Kid, Cheatiní Danger, Groovy Chic, and, of course, 2003 World Grand Champion The Whole Nine Yards jump off the page.
At the 2005 Celebration alone, Armed offspring garnered more 1st and 2nd place ribbons than the offspring of any other sire in our industry. In addition, the total number of his offspring to earn 1st and 2nd place ties was greater than that of any other sire.
Overall, Armed offspring walked away with 12 world championships and three world grand championships in 2005. His world champions included Amateur Owned and Trained Park Pleasure WC Itís Up In Arms, Mare and Foal WC Genís If Looks Could Kill, Youth 12-14 WC Absolutely Armed, Amateur Lady Riders on Geldings WC Cheatiní Danger, Gelding and Youth 11 & Under WC Armed To Show, Amateur Park Performance Stallions and Park Performance Five and Over WC The Concealed Weapon, Model Mare WC In Vogue, Youth Yearling WC Honky Tonk Jessie, Novice Youth Park Pleasure WC Rodney Dangerfield, and Amateur Owned and Trained Lite Shod WC Armed Lady From Dixie. His world grand champions were Walking Mares and Geldings WGC Cheatiní Danger, Western Park Pleasure WGC Armed And Trigger Happy, and Two-Year-Old WGC Gen. On The Run. Add to all that 13 reserve world championships and one reserve world grand championship and impressive is the only word to describe such a single Celebration record.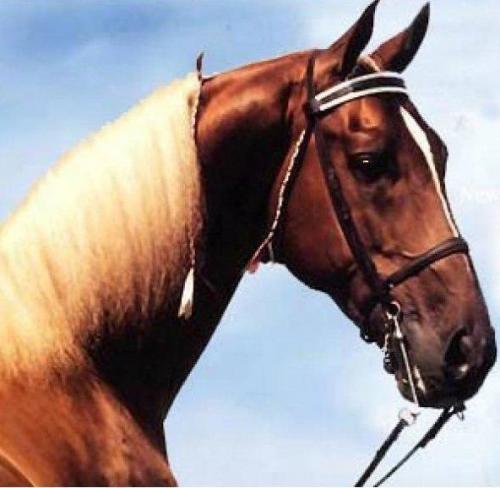 Based on the above, itís absolutely clear that if youíre breeding for champions, Genís Armed And Dangerous should be at the top of your list of potential sires. This World Grand Champion producer has truly proven himself in the breeding shed. He is the complete package Ė bloodlines, natural ability, disposition, conformation, and beauty. And, he is fully capable of producing offspring in his image.
Genís Armed And Dangerous stands at Bridlewood Farm in Shelbyville, Tennessee. If purchased prior to December 31, 2005 his stud fee is $2,000 with a live foal guarantee. If purchased after December 31, 2005 his stud fee is $2,500 with a live foal guarantee. For more information contact Bridlewood Farm at (931) 389-9388, (931) 389-0401, or bridlewoodstuds@aol.com. Bridlewood owners Larry Lowman and Judith Burgess, breeding manager Scott Williams, and office manager Peggy Warren will be happy to assist with any inquiries.