BUDíS STERLING BULLET; STILL IN THE OLIVER FAMILY




by Franne Brandon

The year was 1923. America had recovered from the Great War and had entered a decade of affluence. Automobiles had become common, womenís skirts were shorter, and a period of prosperity ensued.

In 1923, a Marshall County farmer named R.H. Clark purchased a two year old sorrel stallion prospect. The colt was sired by Major Allen, a son of the noted show mare Merry Legs, both bred by Albert Dement of the Normandy community in Bedford County. The dam of the sorrel colt was a daughter of Denmark Allen, later know as Roan Allen, making the colt a linebred Allan colt.

Clark offered the young stallion at public stud. With few telephones and no magazines to run advertisements, he did as other stallion owners of the time. He had stud posters printed and posted them at places where the mare owners gathered. The young stallionís bloodlines spoke for themselves. Mares began coming to Red Allenís court.

Twelve years passed. In April of 1935, a group of gentlemen met at Lewisburg, Tennessee, near Clarkís home. Their intentions were to organize a registry to record the pedigrees of Tennesseeís native saddle horse that was so different from the Saddlers north in Kentucky. The gentlemen, however, decided not to use the already familiar term plantation horse, but to coin a term indicative of the unique movement of the horses that they were breeding. They named the infant registry the Tennessee Walking Horse Breeders Association of America.

Two years later, in 1937, R.H. Clark registered his sorrel stallion with the TWHBAA.

Several of the horseís offspring already had been registered by this point. Clarkís Red Allen continued to be promoted by word of mouth and stud posters

The stout red stallion outlived his master. Upon Clarkís death in 1939, Clarkís daughter Sarah Clark Oliver inherited the old stallion. Her husband, Herman Oliver, was a farmer, breeder, and trader who supported his wife and sons through the products of the family farm. His philosophy being that everything was for sale, he insisted on showmanship at all times, that nothing would be presented to the public unless it was in the best of condition. Only one animal escaped Oliverís sales list. Sarah Clark Oliverís fatherís stallion died the property of Mrs. Herman Oliver.

Although Herman Oliver did not keep a son of Clarkís Red Allen to continue the legacy of those bloodlines within his breeding program, other people did. The majority of grand-get of old Clarkís Red Allen, though, can be attributed to a son who was bred and kept all his life by one of R.H. Clarkís sons.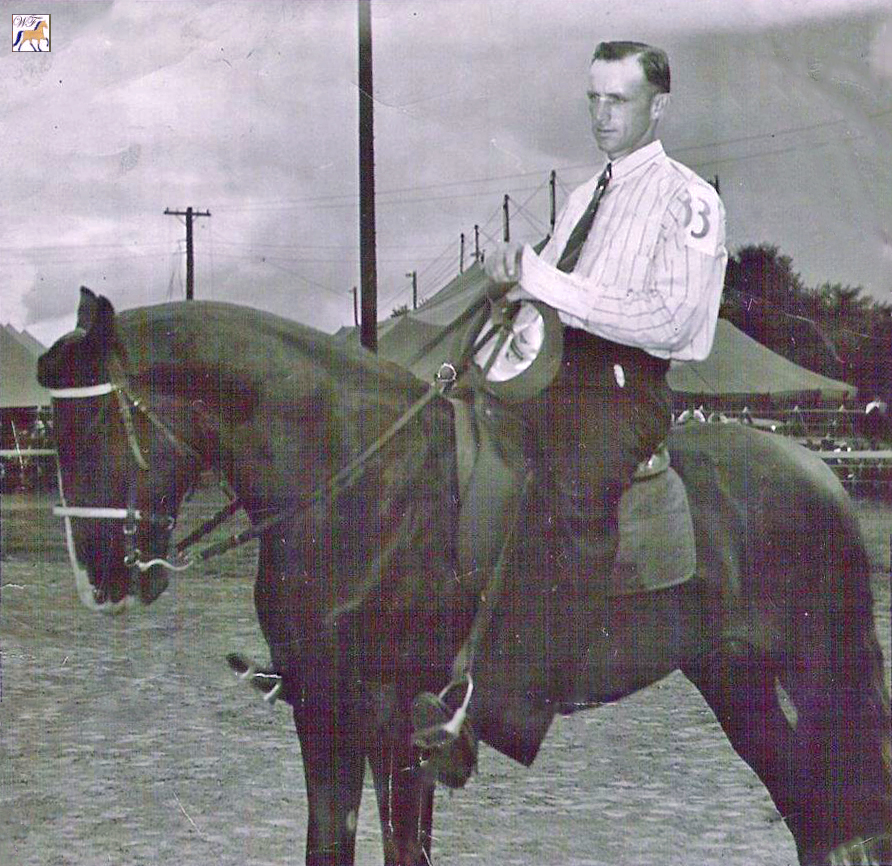 Jesse Clark raised a dark red colt by his fatherís stallion out of a mare named Lizzie Allen, a daughter of Hunterís Allen F-10. Foaled in 1937, this colt was registered as Red Bud Allen. As a two year old, Red Bud Allen was broke to ride, and even made a few shows under the training of Zolly Derryberry. Jesse had a special relationship with this very intelligent stallion, not only riding him and using him in the stud, but also teaching him tricks. During his life, Red Bud Allen sired 145 registered foals. The vast majority were bred in the heyday of the young breed during the mid to late forties, after the death of Clarkís Red Allen. During the final years of his life, he bred very few mares, as the times had turned to the padded show horse, black was the color in vogue, and the bloodlines of the padded horses were those in demand. In the last years, when the old stallion was in his late twenties, he sired only five foals. Three of those five were out of a bay mare named Merry Manís Star.
Foaled in the fifties, Merry Manís Star was not registered until 1965. In 1965, however, the breeders association changed its registration rules. All foals had to be registered during the year that they came, and any adult horses whose paperwork was not in order had to obtain registration certificates then, or be reduced to grade horse status. Leon Oliver, who had returned from Army service, made the choice to produce a foal by his uncleís horse out of Merry Manís Star. The bay mare went to the Delina area of Marshall County for a tryst with Red Bud Allen for three consecutive years.
The first product of the mating of Red Bud with Starr was a filly. The next two years, in 1966 and 1967, Oliver was more successful in obtaining the stud colts that he wanted, first in 1966, then in 1967, another colt arrived posthumously. He became Red Budís Rascal. When Oliver lost the older colt, it remained to Red Budís Rascal to carry forward the equine heritage of his sire and his grandsire.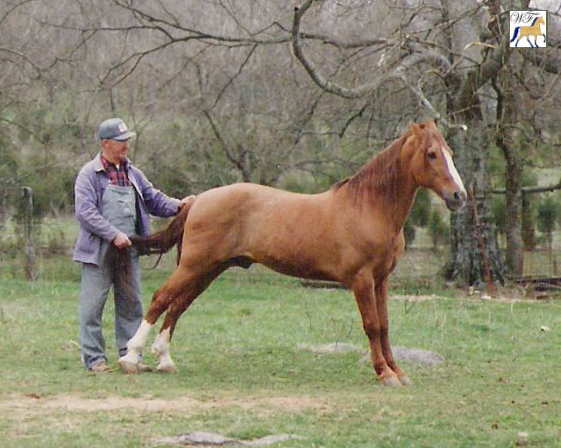 Red Budís Rascal had been foaled the spring after the victory of the four year old stallion Shakerís Shocker in the Grand Championship Stake at the Tennessee Walking Horse National Celebration. An extremely popular winner with his petite blond owner and trainer in the irons, Shocker inspired a surge of popularity for the padded show Tennessee Walking Horse. Interest in the kegshod registered horses was at another all-time low. Red Budís Rascal arrived with the wrong gait genes, the wrong pedigree, and the wrong color to attract any interest from the vast majority of mare owners in the vicinity of his home barn.
Red Budís Rascal began the pattern of the life of an Oliver farm stallion. Strong boned, red, and naturally walking, he seemed unsuited for the times.
The first dozen years of Red Budís Rascal's life passed. Leon became the familyís collector and preservationist. He tried to keep alive the bloodlines of every animal that he had owned, even a heifer given him by his uncle! In 1979, Leon felt that the ever-swinging pendulum in the Tennessee Walking Horse business was beginning to change its direction. Trail rides were becoming popular once more, shows were beginning to add classes for plantation horses, and interest in the pleasure aspect of the breed was on the upswing. Anticipating better days ahead, Oliver ordered a set of business cards advertising the specialties of his farm, and advertising Red Budís Rascal as an ďold bloodlineĒ stallion, a grandson of Clarkís Red Allen, born in 1921.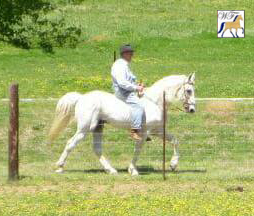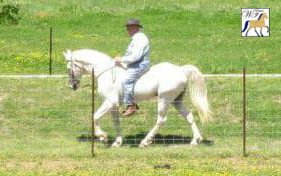 In 1984, the Pleasure Walking Horse Association of Tennessee was formed to promote the pleasure walker in the state of its origin. Leon joined the group and supported its magazine, PWHAT News, with his business card ad. Through this ad, many people whose interest was the natural walking horse from the older bloodlines that had not been bred to pace learned of Red Budís Rascal. Mares came to the stallionís court that had never visited before. The resulting Red Budís Rascal foals had good gaits, strong bones, and sweet dispositions to go along with good minds. Mares owners came back again. When the foals went under saddle, many owners were so pleased with their horses that they were never on the market. Like two of the early fillies by Bud, Lonesome Last One and Red Budís Lady, they would remain forever with the same owners.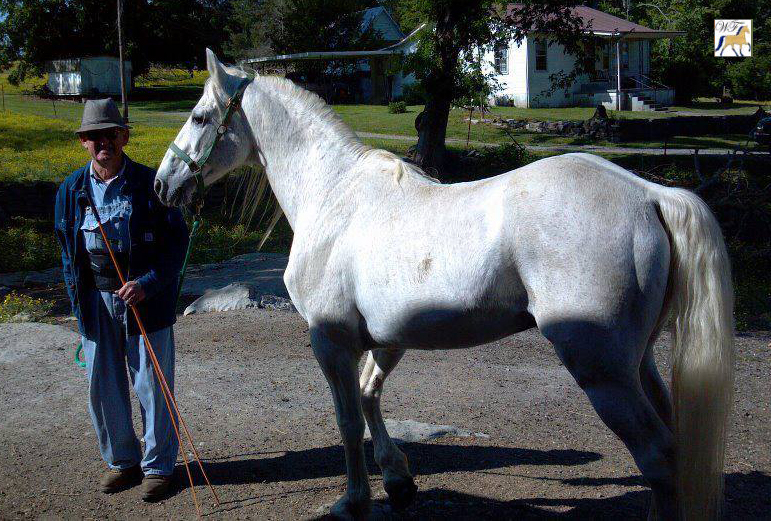 During the eighties, a parallel trend to that of discovering old foundation bloodlines without the padded show strains was an emphasis on color. Perceiving a need for a stallion of color, Oliver searched until he found a handsome grey tracing its color line to Top Wilson. The second mating of the two resulted in a dark chestnut colt also blessed with the grey gene. Naming the colt Buds Sterling Bullet, Oliver groomed him as a future stallion prospect for Brown Shop Road Farms.
Since Bullet, as the grey colt was known, went through the same regimen as his grandsire, he was ridden at two, trained to obey commands at liberty, and only met his first small court of mares at three. Of the six that he bred, five produced grey foals the following spring. In later years, Bullet attracted a large court of mares. A very obedient and intelligent stallion, he could be ridden by both his owner and anyone with reasonable riding experience. Many ads for Bullet ended with ďCome ride him, and then decide on the sire of your next foal.Ē Visitors to the farm did just that, leaving impressed that the horse behaves impeccably with a strange rider aboard.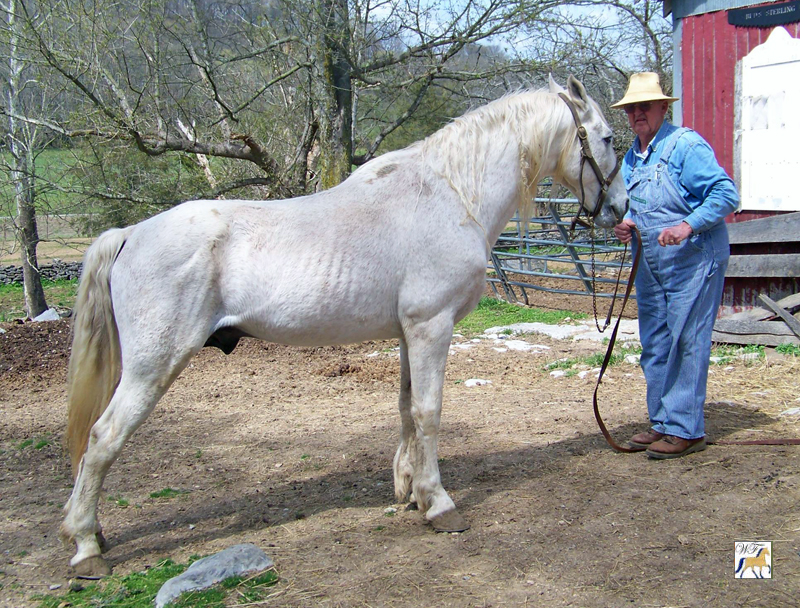 Bullet foals, along with those by Red Budís Rascal, have gone to all parts of the United States, to Canada, and even to Europe. They continue to represent the type of Tennessee Walking Horse that endeared the breed to horsemen in the early developmental years of the registry.
Red Budís Rascal died on July 13, 1997, two months past his 30th birthday. As promised, Oliver buried the faithful old stallion in a shady spot in front of the barn where he had spent all his life. A granite marker at the gravesite bears the simple epitaph ďRed Budís Rascal, 1967-1997, Pleasure Sire.Ē The following year, eleven foals gamboled in the sunshine in testament to a grand old stallion who gave his all until the very last day.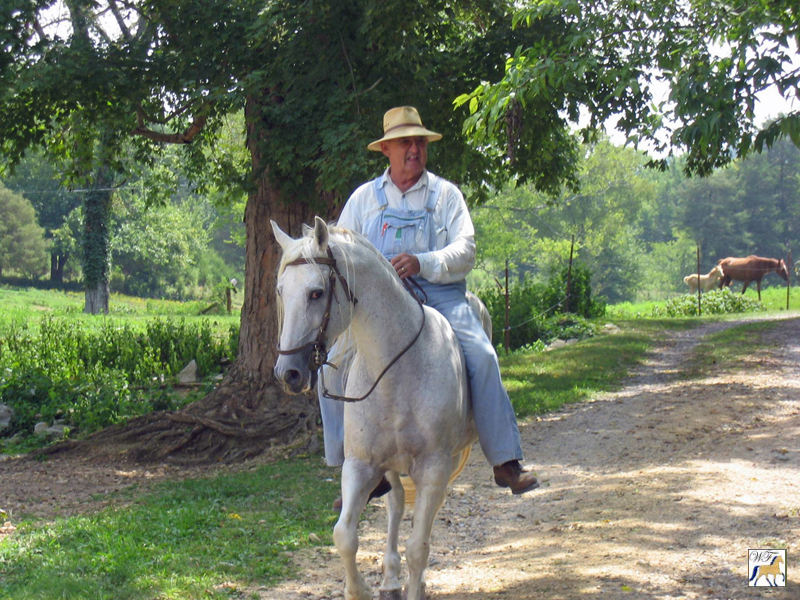 Since the death of Red Budís Rascal, Bullet has assumed senior stallion duties at Brown Shop Road Farms, consistently attracting mares whose owners value the traits that Bullet puts in his foals. Editions of the Voice Sire Summary since 2006 listed Buds Sterling Bullet as one of the ďTop 100 SiresĒ. Trail geldings by Bullet, especially the grey ones, continue to be in great demand, so much so that the area is often sold out of them. Mares by Bullet have now entered the broodmare ranks, and these ladies are proving that they can produce what both the trail and pleasure show worlds demand. In the Midwest, Sterlingís Dolly, a Bullet daughter out of a mare by Steve Oliverís Markís Crackerjack,was the dam of the two year old champion at the 2005 Minnesota Futurity. Her yearling filly took a blue in halter against all breeds in her first trip to the show ring in Virginia.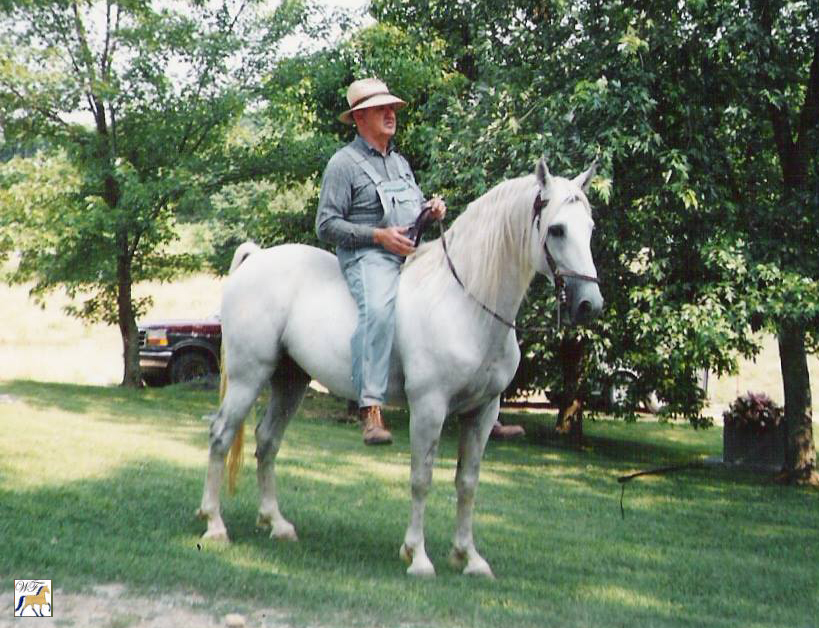 Since retiring from his job with the state of Tennessee, Leon Oliver has devoted much of his energy to the pursuit of his breeding goals. He has owned mares of Red Budís Rascal breeding that he crossed quite successfully with Buds Sterling, and his current Junior Stallion is a Bullet son out of the mare Markís Diamondone of the last daughters of markís Crackerjack, At age 29, Buds Sterling Bullet no longer serves as a riding horse, but he remains alert and responsive to his owner and welcoming to farm visitors. Truly an impressive horse who has made an impact on the pleasure Tennessee Walking Horse ranks.