Society Man #400554, A Son of the Great Wilsonís Allen
(By Billy Taylor, Winchester, Tennessee. Reprinted with permission from the Heritage Highlights )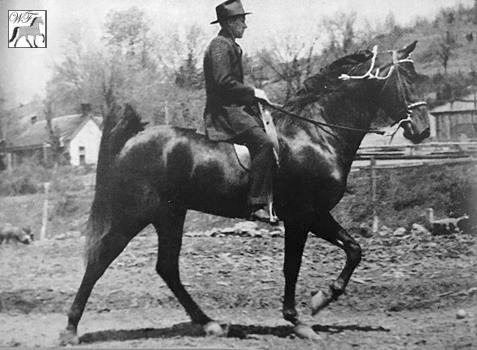 Society Man was foaled on March 19, 1940. His breeder and owner was C. Stimpson, Statesville, North Carolina. His sire, Wilsonís Allen #350075, was considered to be one of the best Tennessee Walking Horses of all time. Society Manís dam was Virginia Joyce #39065, whose sire was Red Eagle F-61 and dam was Nillie C.
In 1943 Steve Hill had Society Man in training at his barn in Beechgrove, Tennessee. Society Man was shown several times as a three year old. He won the three year old stallion class at Murfreesboro, Tennessee; the Grand Championship class at Atlanta, Georgia; the three year old class at Shelby, Mississippi, and the Grand Championship class at Lexington, Kentucky. Steve Hill took him to the Celebration in Shelbyville, Tennessee, in the fall of 1943 where he won the Three Year Old Stallion class; he also won fifth place in the Grand Championship class that year.
Steve Hill purchased Society Man from C. Stimpson on January 1, 1945, when he was a five year old. Iím not sure when Mr. Hill retired society Man from the show ring. There is a write up in the Tennessee Walking Horse magazine dated April, 1948. It states that Society Man is the head stud at Steve Hillís farm. It also states that Society Man was a great show horse a couple or so years before he was retired. It appears, based on this article, that Society Man was retired at approximately six years of age. Society Man was a good show horse; it took a good horse to win the Three Year Old Championship in 1943 because there was a lot of strong competition. Fifth place in the Grand Championship class was quite a feat for a three year old! Jack Kinkaid told me that as a young man he saw Society Man and Midnight Sun under saddle. He said, in his opinion, Society Man was the better horse because he was more true in his running walk and demonstrated a lot more head nod than his half-brother, Midnight Sun.
Steve Hill sold Society Man to Alton Pierce Jr, Smyrna, Georgia on May 1, 1952. Alton Pierce Jr. sold him to Charles Gresham, Atlanta, Georgia, on February 2, 1953. Charles Gresham sold him to Alton Pierce Sr., Alwalt Community, Franklin County, Tennessee, March 3, 1954. We bred both of our mares, LuLu Taylor #570334 and her daughter Pinky Lu #621512, in 1958. LuLu had a chestnut sabino filly foaled in 1959; dad sold her for $600 which was a good price back then. Pinky Lu didnít get in foal to Society Man in 1958; she would have been bred back to him in 1959, but Alton Pierce Sr. sold him on February 25, 1959, to J.H. Trisdale, Redding, California. Pinky Lu was bred to a son of Society Man, Paigeís Black Boy, that Mr. Pierce owned. She produced two colts by him. One of them, Paigeís Echo #659379, remained a stallion until his death in July, 1996. Several of the Heritage stallions have bloodlines back to Society Man through Paigeís Echo.
Society Man sired 317 foals during his lifetime, but only 8 foals after J. H. Trisdale purchased him and moved him to California. Of all the sons that Society Man produced, Paigeís Black Boy is the only one to sire a son, Paigeís Echo, that had sons who are in production today as breeding stallions. To appreciate how rare this bloodline is when it comes to an unbroken top line of males to carry on the Society Man name, there are only four stallions in production today who were sons of Paigeís Echo Ė Societyís Duke Allen #950701, owned by Diane Sczepanski, Whitehall, Wisconsin; Societyís Lee Allen #942363, owned by Carl Parks, Belvidere, Tennessee; Echoís Roan Delight #961271, owned by Sonny Gulley, Franklin County, Tennessee; and Societyís Dan Allen #941414, owned by Billy Taylor, Winchester, Tennessee.