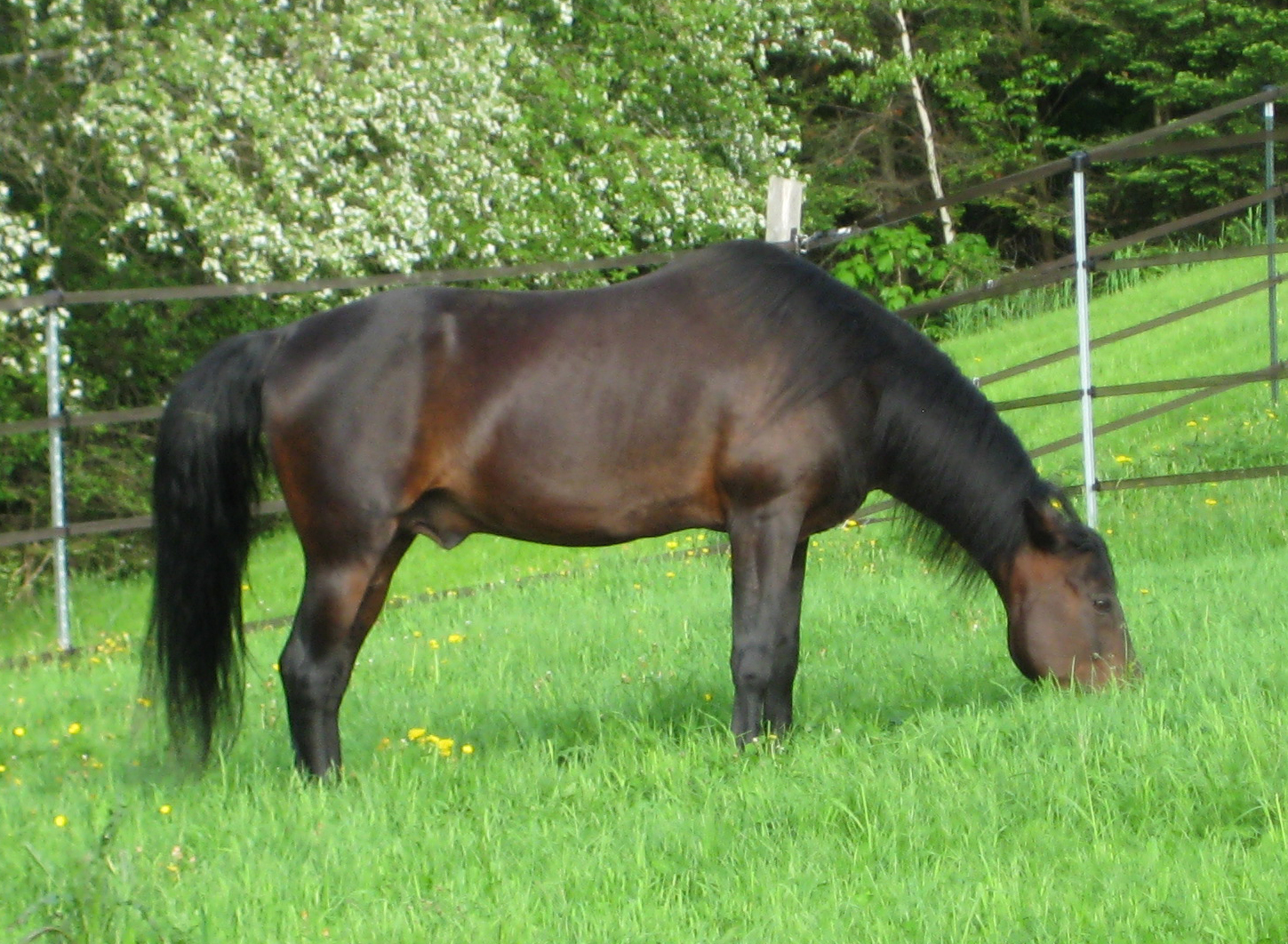 "Snip" is a gorgeous black stallion, 15.1 hands, 1,000 lbs, foaled in 1996. He is large boned with feet to match and has a ground pounding action very much like his grand sire, Midnight Sun. Snip's sire, Sunís Remembrance (1966-2004) was the last living son of Midnight Sun (1940-1965). Snip's dam, Merry Nite Doll 88, was sired by Merry Boy's F88, one of the last living sons of Merry Boy . Merry Nite Doll's dam, Stormy's Ebony Doll, was sired by Go Boy's Nite Storm, one of the last living sons of Merry Go Boy. Snip has a pedigree that in years past was known as the "royal cross," horses sired by Midnight Sun out of Merry Boy mares. Stormy's Ebony Doll's dam was a direct Ebony Masterpiece daughter and her dam was by the great Society Man. In addition, Snip's registration shows four foundation horses.
When we went to look at Remembrance's Jubilee in September of 2017, we thought we'd be coming home with just one horse. After meeting Tim & Annie and visting their herd of foundation walking horses, we ended up bringing home three Sun's Remembrance half siblings: Remembrance's Jubilee, Remembrance's Merry Snip and Remembrance's Hot Tamale.
When we pulled into the Leverette's Hard Scrabble Farm in Sheffield, Vermont, Snip was standing quietly in his paddock. I took one look at his thick build and conformation and thought "Wow. That is a Jarred horse." I didn't get to finish the thought before Jarred said "Now THAT is what I'm looking for." The idea was to add one foundation bred stallion to our herd, so I looked at Snip and thought "I hope Jubilee is as nice as you!"
After seeing Jubilee and the rest of the Leverette's herd, we came to Snip's paddock. He picked up the pace to meet Tim, obviously his best friend, at the gate. When I heard (and felt) that Midnight-Sun ground pounding four beats as Snip approached I began to get the sneaking suspicion that we'd be adding two stallions to our farm. When Snip calmly and sweetly stood by Tim with his quiet, humble disposition I could see the gears turning in Jarred's head. When he proclaimed "He's just like my Jack!" I knew Jarred had fallen in love. And so, we added TWO sons of Sun's Remembrance to our farm.
In 1996 Tim and Annie Leverette purchased Snip as a five month old colt from Robert and Arlene Pralle of Williston, Florida. Snip has lived with them in Sheffield, Vermont until coming home with us in September of 2017. When Snip first arrived he was understandably homesick for his people, but he has since come around and is learning that he is loved here, too. He has the most wonderful disposition and loves to please.
We are so thankful to Tim & Annie for the opportunity to own these foundation horses and the wonderful care they've obviously recieved in their lives. We hope to continue their passion of preserving and furthering these great lines.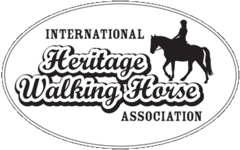 He is certified with the International Heritage Horse Association as 100% heritage.
We had his semen evaluated by the Equine Reproduction Center and he will be standing stud to a limited number of mares in 2018. Live cover only. See our Stallion Service Contract.
REMEMBRANCE'S MERRY SNIP

TWHBEA #963247
IHWHA #1996-HC-354-FH

DOB: 05-15-1996
SEX: STALLION

COLOR: BLACK
MARKINGS: SNIP, NEAR HIND SOCK

GENOTYPE:
[Ee aa]

HEIGHT: 15.1H

SUN'S REMEMBRANCE
TWHBEA #661074
COLOR: BLACK

MIDNIGHT SUN


TWHBEA #410751




COLOR: BLACK



WILSON'S ALLEN
TWHBEA #350075
COLOR: CHESTNUT

ROAN ALLEN


TWHBEA #F-38




COLOR: CHESTNUT SABINO




HEIGHT: 15.3H



BIRDIE MESSICK
TWHBEA #86
COLOR: GREY
RAMSEY'S RENA
TWHBEA #410682
COLOR: BAY
DEMENT'S ALLEN
TWHBEA #391007
COLOR: CHESTNUT
DENA
TWHBEA #410681
COLOR: BAY
PRINCESS KAY
TWHBEA #581656
COLOR: BLACK
SUN'S BLACK DIAMOND
TWHBEA #530775 COLOR: BLACK
MIDNIGHT SUN


TWHBEA #410751




COLOR: BLACK



GOWEN'S LITTLE LADY
TWHBEA #410986
COLOR: BAY
QUEEN'S PRINCESS R.
TWHBEA #474546
COLOR: BAY
WILSON ALLEN'S WINCHESTER
TWHBEA #400935
COLOR: CHESTNUT
WARRENS SNOW QUEEN
TWHBEA #430153 COLOR: ROAN
MERRY NITE DOLL 88
TWHBEA #802432
COLOR: CHESTNUT
MARKINGS: NEAR HIND SOCK, STAR.
MERRY BOY'S F-88
TWHBEA #550378
COLOR: CHESTNUT SABINO
MARKINGS: BOTH HIND AND NEAR FORE STOCKINGS, OFF FORE FETLOCK, ON BOTH KNEES, ON OFF HIP, BALD, FLAX MANE AND TAIL.


MERRY BOY


TWHBEA #350189
COLOR: BLACK SABINO

ROAN ALLEN


TWHBEA #F-38




COLOR: CHESTNUT SABINO




HEIGHT: 15.3H



MERRY LEGS
TWHBEA #F-4
COLOR: BAY SABINO

BLACKLEY'S MAY ALLEN
TWHBEA #461357
COLOR: BLACK
MARKINGS: STAR
WILSON ALLEN'S BOSS MAN
TWHBEA #400882
COLOR: CHESTNUT
MARKINGS: BLAZE
JUNE BRIDE
TWHBEA #400185
COLOR: CHESTNUT
MARKINGS: NEAR HIND SOCK, STAR, SNIP.
STORMY'S EBONY DOLL
TWHBEA #742942
COLOR: BLACK

GO BOY'S NITE STORM
TWHBEA #682493
COLOR: BLACK
MARKINGS: OFF HIND CORONET, STRIP.

MERRY GO BOY
TWHBEA #431336
COLOR: BLACK

MIDNIGHT PEGGIE P.
TWHBEA #654137
COLOR: BLACK
MARKINGS: STAR
EBONY'S CO-ED
TWHBEA #703267
COLOR: BLACK
MARKINGS: NONE

EBONY MASTERPIECE
TWHBEA #560586
COLOR: BLACK

A SOCIETY MAN'S LADY
TWHBEA #612085
COLOR: CHESTNUT
MARKINGS: NONE

Westwood Farms - Locust Dale, Virginia 22948 - stephanie@westwoodfarms.net - 540-825-1300