Reference: Remember Prayer Warrior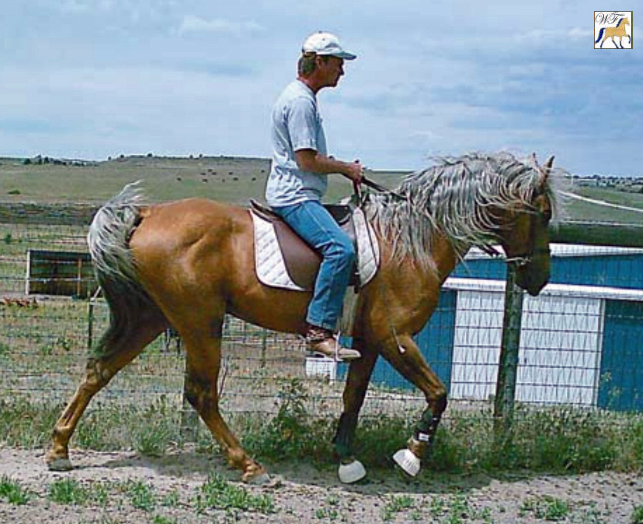 Remember Prayer Warrior, owned by Carol Warwick, Colorado Springs, Colorado
(Reprinted with permission from the Heritage Highlights)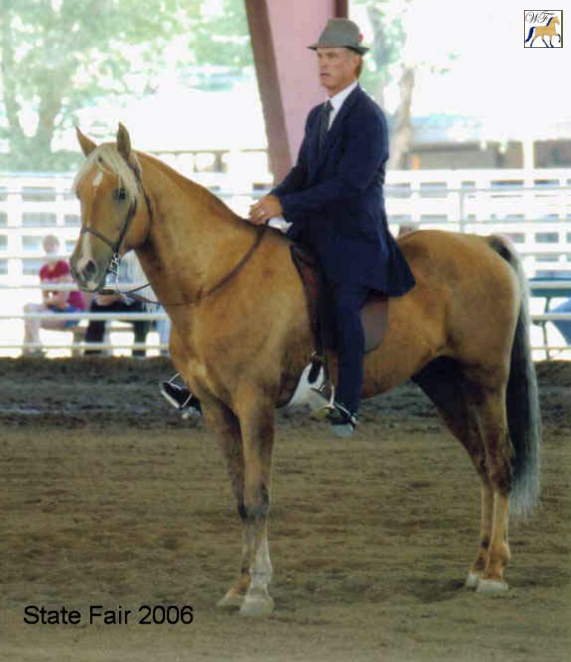 Hidden out in a remote corner of Colorado until a chance discovery through a friend, Remember Prayer Warrior, the palomino grandson of Midnight Sun, has had, and continues to lead an interesting life. He was bred by McAllen Finley and Arlene Pralle, anf foaled in the spring of 1997. His dam is Chance's White Gold, a granddaughter of John A's Chance. His sire is Sun's Remembrance, the last son of the great Midnight Sun. This puts 18 horses from the 1940's and earlier on his papers, including two foundation (F) horses. With lines to Midnight Sun, and therefore, Wilson's Allen and Roan Allen on the top, and Merry Boy and Merry Legs to those same foundation horses on the bottom, he truly represents some of the last close-up links to the old greats.
Raised in Florida, he was moved to the mountains of Colorado as a two year old and basically put out to pasture for the next six years of his life. He was "rediscovered" during a herd dispersal, and purchased mainly on the strength of his papers. As he had not been started under saddle, he was put with a colt starter, and then in the spring of 2006, placed with a gaited trainer. Not much gait training was necessary as it came naturally to him and it became clear that what was needed was show training so he could get out there and show them what he had! And he surely did! Though he was quite excited, he settled into this new environment and got blues and reds at his first show. This pattern continued throughout the year, culminating with the Champion English Pleasure 3-Gait, and Reserve Champion English Trail Pleasure 2-Gait at the Colorado State Fair in August 2006. Not bad at all for a horse whom a few years earlier had been a breeding stallion that had not even been ridden.
Warrior was a 15.3h, striking palomino with a beautiful long silvery mane and tail. He has tremendous bone and feel as befitting an "old time" Walking Horse. He has a wonderful natural flatwalk, running walk, and SUPERB rocking-chair canter and he can do it ALL barefoot. His foals inherit those natural gaits and his beautiful head, proving that the Heritage breeding carries forward. It's truly wonderful to look out in the field and see the ghosts of the past come to life!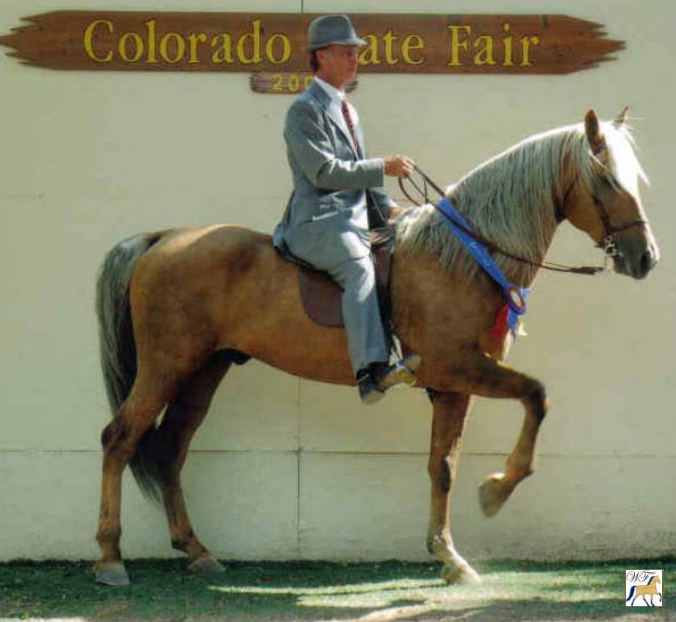 REMEMBER PRAYER WARRIOR
TWHBEA #9710735

DOB: 05-13-1997
DOD: Y

SEX: STALLION

COLOR: PALOMINO
MARKINGS: BLAZE, SNIP, WHITE MANE AND TAIL.

GENOTYPE:
[ee Aa NCr]

HEIGHT: 15.3H

SUN'S REMEMBRANCE

TWHBEA #20112890
COLOR: BLACK

MIDNIGHT SUN
TWHBEA #410751
COLOR: BLACK

WILSON'S ALLEN
TWHBEA #350075
COLOR: CHESTNUT

ROAN ALLEN
TWHBEA #F-38
COLOR: CHESTNUT SABINO
HEIGHT: 15.3H

BIRDIE MESSICK
TWHBEA #86
COLOR: GREY
RAMSEY'S RENA
TWHBEA #410682
COLOR: BAY
DEMENT'S ALLEN
TWHBEA #391007
COLOR: CHESTNUT
DENA
TWHBEA #410681
COLOR: BAY
PRINCESS KAY
TWHBEA #581656
COLOR: BLACK
SUN'S BLACK DIAMOND
TWHBEA #530775 COLOR: BLACK
MIDNIGHT SUN
TWHBEA #410751
COLOR: BLACK

GOWEN'S LITTLE LADY
TWHBEA #410986
COLOR: BAY
QUEEN'S PRINCESS R.
TWHBEA #474546
COLOR: BAY
WILSON ALLEN'S WINCHESTER
TWHBEA #400935
COLOR: CHESTNUT
WARRENS SNOW QUEEN
TWHBEA #430153 COLOR: ROAN

CHANCE'S WHITE GOLD

TWHBEA #20202171
COLOR: CREMELLO REG AS "YELLOW"
MARKINGS: STRIP


CHANCE'S GOLD DUST H.
TWHBEA #685726
COLOR: PALOMINO
JOHN A'S CHANCE
TWHBEA #491026
COLOR: PALOMINO

LAST CHANCE
TWHBEA #4350034
COLOR: CHESTNUT

GOLDUST MAID
TWHBEA #411054 COLOR: PALOMINO
MARKINGS: STRIP, WHITE MANE AND TAIL.
BONNIE'S RED GLORY
TWHBEA #4561304
COLOR:
PRIDE OF HALL ALLEN
TWHBEA #510910
COLOR: CHESTNUT
HENDRIXSON BONNIE
TWHBEA #410642
COLOR: BUCKSKIN

DESERTS GOLDEN IMAGE
TWHBEA #717296
COLOR: YELLOW
MARKINGS: STRIP, WHITE MANE & TAIL
DESERT'S GOLD SUN
TWHBEA # 600314
COLOR: "YELLOW"
MARKINGS: BOTH HIND AND OFF FORE STOCKINGS, STRIP, WHITE MANE AND TAIL.
DESERT'S GOLD WILSON
TWHBEA #560389
COLOR: "YELLOW"
MARKINGS: OFF HIND SOCK, NEAR HIND FETLOCK, STAR, WHITE MANE & TAIL.
MARYANDS DESERT GOLD
TWHBEA #591645
COLOR: "YELLOW"
MARKINGS: STAR, WHITE MANE AND TAIL.
MERRY BOY'S SHOWERS P.
TWHBEA #650300
COLOR: CHESTNUT
MERRY BOY
TWHBEA #350189
COLOR: BLACK SABINO

APRIL SHOWERS
TWHBEA #430050
COLOR: CHESTNUT SABINO
NOTABLE OFFSPRING

Westwood Farms - Locust Dale, Virginia 22948 - stephanie@westwoodfarms.net - 540-825-1300