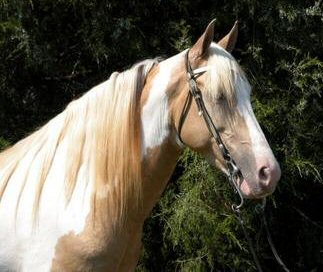 Magic's Golden Flash is a purebred Tennessee Walking Horse, but he's not registered with the TWHBEA. The reason for this is a common one. There was some dispute between the owners of his sire and dam, and Flash's dam was not put on the stallion report. Later, the TWHBEA contacted Vonda and offered to allow Flash to be registered if she would pay the registration fees and the $100 fee to add his dam to his sire's stallion report, but she declined. DNA testing had confirmed his parentage already and Vonda's personal beliefs about the abuses in the TWH industry dictated that she keep to other registries. He IS registered with the following:
Spotted Kentucky Mountain Horse Association

Racking Horse Breeders Association of America

National Spotted Saddle Horse Association

Spotted Saddle Horse Breeders' and Exhibitors' Association

Pleasure Saddle Horse Registry

Blue Eyed Horse Association

International Pleasure Walking Horse Registry

National Walking Horse Association

Kentucky Natural Gaited Horse Association
Flash is an amazing animal - massive, powerful, but every inch the gentleman. The first time I met him Vonda let me climb on him bareback and he treated me to quite an experience...almost earth-moving! Vonda and I have been talking about crossing daughters of Flash and Gambler for quite a while...now I've got my Flash daughter - Flash's Southern Belle HS!
Vonda's mother purchased Flash as a "spotted palomino" before the champagne gene was documented. Later, it became clear that Flash was no ordinary palomino. His foals were often born with bright pink skin and baby blue eyes. It was then that Vonda heard of the champagne gene. She got in touch with the Champagne Horse Association (now defunct) and discovered that her "palomino" was actually a "champagne." [NOTE: Vonda and I were both volunteers at the CHA, and through it we became friends.] We later discovered that Flash was not a gold champagne, but an amber. His white markings masked what would have been dark points except for an inch-wide stripe in his mane. He was DNA tested by the UC Davis and found to be heterozygous black [Ee], heterozygous agouti [Aa], heterozygous Sabino 1 [N/Sb1], and Tobiano. How did this happen? Footie Footloose passed her champagne gene and (hidden) agouti and Magic Man's Flash passed a black gene and a sabino gene. Either could've passed tobiano.

Flash gets his beautiful champagne coloring from his dam, Footie Footloose. TWHBEA records have Footie (pictured at left) registered as a "yellow" mare with an "off fore fetlock." When Footie was foaled in 1984, the term "yellow" was used to encompass many different colors - gold champagne, amber champagne, palomino, buckskin and sometimes the occasional golden chestnut. As to Footie's surprising lack of recorded markings, there are two possible explanations. One - perhaps her owners did not want to take the time to write in her many spots and markings OR perhaps it was an intentional omission. When Footie was registered, spotted horses were generally frowned upon in the walking horse breed. Regardless, Footie went on to produce some excellent quality foals.
Flash gets his conformation and build straight from his sire, Magic Man's Flash. He is pictured at right as a young horse. Magic Man is registered as a "blue roan" with "four stockings, under belly, bald (face)." He is actually a black sabino (look at the facial markings) tobiano (the large body spots) with roaning (characteristic of sabinos, not the true roan gene).

He was shown by Douglas Sparks at the Lewis County Fair Horse Show in 1992 and again at the Montgomery County Fair Horse Show in 1998.
MAGIC'S GOLDEN FLASH

COLOR: Amber champagne sabino tobiano
GENOTYPE: [Ee A

a N/SB1 N/TO]

MAGIC MAN'S FLASH
TWHBEA #892703
COLOR: BLACK SABINO TOBIANO
ANOTHER MAGIC MAN
TWHBEA #760097
COLOR: BLACK
ANOTHER MASTERPIECE
TWHBEA #681363
COLOR: BLACK

SUN'S MAGIC MISS
TWHBEA #697306
COLOR: BLACK
SHINE ON FLASHY LADY
TWHBEA #844877
COLOR: BAY SABINO
SHINE ON GO BOY
TWHBEA #653671
COLOR: BLACK SABINO
SHADOW'S MERRY GIRL A.
TWHBEA #665153
COLOR: CHESTNUT
FOOTIE FOOTLOOSE
TWHBEA #841187
COLOR: GOLD CHAMPAGNE TOBIANO
SPIRIT'S SPRITE B.
TWHBEA #692208
COLOR: BLACK
SPIRIT OF MIDNIGHT
TWHBEA #571132
COLOR: BLACK

SMITHS BLACK DIAMOND
TWHBEA #632127
COLOR: BLACK
YOUREE'S BELLE
TWHBEA #712433
COLOR: CHAMPAGNE
MIDNIGHT SHOWBOAT
TWHBEA #660203
COLOR: BLACK
YOUREE'S SANDY
TWHBEA #640229
COLOR: CHAMPAGNE

Westwood Farms /strong>- Locust Dale, Virginia 22948 - stephanie@westwoodfarms.net - 540-825-1300