Grey John Horses from the Heritage Highlights
By Billy Taylor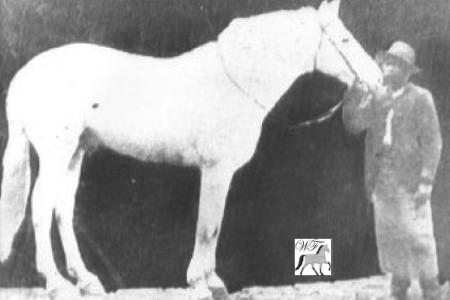 Boone's Grey John was born in 1885 or 1886 on Col. Nathan Boone's farm in Booneville, located in northeast Lincoln County, Tennessee. Yankee soldiers left a mare heavy in foal on Col. Nathan Boone's farm during the Civil War; the resulting foal was Boone's Grey John. Col. Nathan Boone stated that Grey John could perform a flawless running walk at the speed of eight miles per hour. He was considered by many to be the best of his time.
Mr. J. D. Luna, the owner of Buford L. F-11 and Bramlett F-9, stated that Grey John took more blue ribbons than any horse in that part of the country. While it was very unusual at the time, mare owners brought their mares long distances to breed them to this great horse. Grey John produced many good horses; Buford L. F-11 was considered by most to be the best. He was born April 11, 1886. Ruben Logan of Petersburg, Tennessee, bred his dam, Beauty Hal, to the Grey John horse, and the resulting foal was Buford L. F-11. Beauty Hal was a sabino whose gaits were perfect. She was approximately 15.2 hands and very fine. Mr. Luna purchased Buford L. F-11 as a two year old from Mr. Logan. Mr. Luna owned him until the grey died at the age of seventeen. He was worked in harness and under saddle; he could easily go forty to fifty miles in one day. He carried his head high up, always looking down the road, and had a natural high tail set. He was very stylish, attracting the attention of many as he did a fast running walk. Mr. Luna stated about riding a Grey John bred horse it would make a sick man feel well and a poor man feel rich.

In 1890, Mr. Luna took Buford L. F-11 with him to Tucker's Creek community, which is located in northeast Lincoln County, Tennessee, where he taught school, and here Buford L. F-11 was in service to the community mares for two years. Mr. Luna was then employed at Happy Ridge, Tennessee, as a school teacher and was there for one year. The next year, he moved to the Lois community, located five miles south of Lynchburg, Tennessee. Buford L. F-11 was in service there for five years, which accounts for so much of his blood in that community. From there, Mr. Luna moved to Franklin County, Tennessee, and taught school for six years. It was there that Buford L. F-11 died on August 23, 1904. Mr. Luna never owned many mares, although it was not unusual for him to own as many as six stallions at one time. Mr. Luna did purchase and own Mattie Crane, from the Crane family near Lynchburg, Tennessee. He stated that she was one of the best mares that he had ever known. She was the dam of Bramlett F-9, sired by Buford L. F-11.

Both Buford L. F-11 and Bramlett F-9 were perfectly mannered, often being driven double on a surrey by Mr. Luna's wife.

In 1910 Mr. Luna moved to Farmersville, Texas, shipping Bramlett F-9 and three of his sons there. While there, several of the local mares were bred to these stallions. After two years, Mr.Luna moved back to Tennessee with Bramlett and one of his sons, Snookie. He was a blood bay and one of the finest walking horses anywhere. Mr. Luna later visited friends in Texas and they offered all kind of inducements to get him to return with Bramlett and his son Snookie to breed their mares. They had begun riding the Bramlett F-9 offspring and were very pleased with them.

Mr. Luna stated that his young daughters would often break and ride the get of Buford L. F-11 and Bramlett F-9. They would drive in harness, take their places at the plow, farm wagons, and other horse drawn equipment. In addition to their utility, they were always ready for the saddle to show their good gait at the fast running walk. On one occasion at a horse show in Bedford County, Bramlett F-9 was shown against Roan Allen F-38 and defeated him. Mr. Luna stated that he could always distinguish the get of Buford L. F-11 and Bramlett F-9 immediately; they placed a certain trade mark in their body lines, heads, and ears, and especially in the long striding running walk.

Bramlett F-9 was twenty-nine years old when he died in Lincoln County, Tennessee in the 1930's. Mr. Luna describes the Grey John horses as having good minds, excellent gaits, and being a good overall using horse. This description fits the Paige's Echo bred horses who have several lines of Boone's Grey John breeding in their pedigrees. Three Heritage stallions have no less than twelve lines back to Boone's Grey John: Diane Sczepanski's stallion, Society's Duke Allen; Carl Parks's stallion, Society's Lee Allen; and my stallion, Society's Dan Allen.

Foundation horses in the pedigrees of these three stallions include: Allen F-1, Merry Legs F-4, Mitch F-5, Donald F-6, Hal Sumner F-7, Bramlett F-9, Hunter's Allen F-10, Buford L. F-11, Eddie Hal F-14, Tom Hal F-20, General Hardee F-21, Brooks F-24, Earnheart's Brooks F-25, Pat Malone F-27, Smith's Stonewall F-30, John A. F-32, Night Rider F-36, Roan Allen F-38, Ben Puckett F-43, Henry Clay F-52, Stonewall Jackson F-53, Barker's Henry Clay II F-57, Mountain Slasher F-59, Sallie Cheatham F-60, Jessie's Lady F-63, Mabery Allen F-76, Brown Hal F-83, Gertrude F-84, Allis F-85, Berdie Messick F-86, Dick Allen F-98, and Allen Brooks F-107.