About Gambler| Photo Album | Online Studbook | Foal Gallery | Video Clips | Stallion Service Contract
Return to Westwood Farms
Reference: Vicki Thomas
April 17, 2008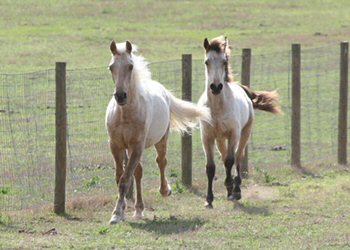 I am so very proud of my colts, Gambler's Tequila Sunset (by Golden Gambler, out of Shaker's Fancy Sensation F.), and Gambler's Lucky Draw (by Golden Gambler, out of Commanding Spirit), I am so pleased that I happened to find Golden Gambler through a stallion benefit auction in the winter of 2005/2006. At the time, I was only window shopping and curious to see if there were any Tennessee Walking Horse stallions close to my location in southern Maryland. Personally, I've never liked the old timely-looking Tennessee Walking Horses with those big unattractive heads, etc. I believe the extensive line breeding practiced by TWH breeders have contributed to this conformation fault making it commonplace and acceptable. I beg to differ on that point.
I was pleasantly surprised to find Tennessee Walking Horse stallion Golden Gambler listed in the stallion auction and that he was only a couple hours drive away in Locust Dale, Virginia. Gambler impressed me with his beautiful conformation, as well as his gorgeous head. The icing on the cake is his buckskin color. I was so impressed that I entered the stallion auction by bidding on Gambler and won the breeding. I initially wanted to breed a purebred Arabian mare I had been training for a friend to Gambler, keeping the foal as my own personal smooth-gaited trail horse. Circumstances changed, I decided to move home to Florida, and I ended up searching for and buying a chestnut Missouri Fox Trotting mare, Fancy, to breed to Gambler.

I didn't stop there though, late summer 2006 I ended up buying another chestnut mare, TWH Commanding Spirit (by I'm In Command), to breed to Gambler. I had looked at Spirit when I initially began my mare search for a riding horse for my brother in January 2006, but there were owner & seller/previous owner complications involved with Spirit. The mare and owner were in NC, I was in MD, and her previous owner (who I was in contact with) was in VA. It didn't work out, so I ended up buying the MFT mare, Fancy, for my brother. Six months later right before I moved to FL, I noticed Spirit was still for sale, I coordinated a meeting at a VA state park located half way between me and Spirit's owner. I rode Spirit, loved her natural gaits, and bought her on the spot.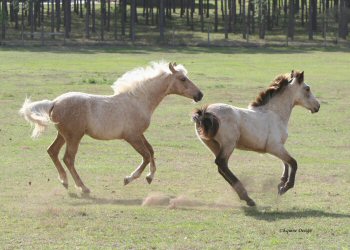 I am partial to "the golden ones," and I just can't believe what awesome looking colts Fancy and Spirit produced from their breedings to Gambler. Fancy's colt, Gambler's Tequila Sunset (aka Sunny) is everything I dreamed for in a colt...beautiful conformation, including an attractive head, multi-gaited, gorgeous dappled palomino color, and a wonderful disposition. I can't wait to start him under saddle in 2 1/2 years.

Spirit's colt, Gambler's Lucky Draw (aka Lucky Bubba), is a gorgeous buckskin colt, and the spitting image of his sire, Golden Gambler. Not only did Lucky inherit Gambler's common sense and easy going temperament, he also inherited his sire's natural gaits, beautiful conformation, as well as that gorgeous buckskin color. Since the day he was born, my friend, Jan Chamberlin, had pestered me daily about wanting to buy Lucky. She finally won, and Lucky will be joining Jan's equine family later this summer after he is gelded.

In my opinion, Golden Gambler produces awesome colts with "to die for" color, disposition, and natural gaits. Why go anywhere else?

Vicki M. Thomas
Gaited Dreams Acres
Dade City, Florida
Gambler Foals Born At Gaited Dreams Acres

Gambler's Tequila Sunset
2007 Palomino Gelding

Dam: Shaker's Fancy Sensation (chestnut)
Date of birth: 5-8-2007
Genotype: [ee A- N/Cr]
Owned by: Vicki Thomas, FL


Gambler's Lucky Draw
2007 Buckskin Gelding

Dam: Commanding Spirit (chestnut)
Date of birth: 8-17-2007
Genotype: [Ee A- N/Cr]
Owned by: Jan Chamberlin, FL