Reference: Pride's Jubilee Star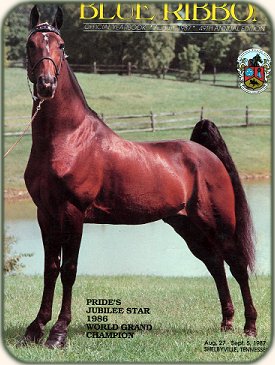 Photo from the cover of The Blue Ribbon, Official Yearbook of the TWHNC, 1987
The Dream is Shared
(Reprinted from The Blue Ribbon, Official Yearbook of the TWHNC, 1987)

It was a dream shared and a date with destiny fulfilled when the bold-walking, high-headed bay stallion swept around the historic oval of the Celebration show ring in the victory pass of the 1986 World Grand Champion.

Trainer Ramsey Bullington was at his reins, tasting for the second consecutive year the sweets of the ultimate win in Tennessee Walking Horse competition. Sharing the summit of success on the sidelines was the Bob Parks family, of Murfreesboro, Tennessee, the owners of the horse.

Pride's Jubilee Star, with his "big motah"-- as Bullington described the horse's drive--revving to the redline, had captured all three of the judges' first-place votes, as well as the applause of 25,000 Celebration fans.

The 10-year-old horse was considered among the top favorites for the Big Stake The crowd's approbation to his entry under the spotlights for the final class of the 48th annual Celebration was a foretoken of the strong possibility of his wearing the floral horseshoe.

There was magic in the impeccable performance of Bullington and "P.J." in their seemingly tireless presentation of all three gaits, both ways the ring, and in the all-field 15-horse workout. Both the trainer and the horse exhibited the best of showmanship--animation of style and spirit--in a flawless exhibition of what a World Grand Champion Tennessee Walking Horse should be.
This same aura of horse and rider followed the team to the evergreen horseshoe of the winner's circle for close crowd contact and the flashing strobes of amateur and professional photographers: P. J. 's ears were up and Ramsey smiled happily.
Pride's Jubilee Star was foaled on February 22, 1976, bred and owned initially by John N. Ross of Smyrna, Tennessee.
The stallion came under Bullington's direction during the ownership of Dr. and Mrs. Buris Boshell of Birmingham. He enjoyed a successful campaign during the year and a half he was owned by the Boshells, proving himself in both amateur and open competition. His blues included titles in such prestigious show rings as the National Trainers' Show, Georgia Jamboree, International, Baton Rouge and Montgomery.

Winning the Celebration as World Grand Champion was a dream come true for the Parks/Bullington/Pride's Jubilee Star combo, a date with destiny, kept.
PRIDE'S JUBILEE STAR

TWHBEA #764596

BORN: 2-22-1976
DIED: 4-6-1998

COLOR: BAY
MARKINGS: STAR, SNIP
PRIDE OF MIDNIGHT H.F.

TWHBEA #661459
COLOR: BLACK


MIDNIGHT SUN


TWHBEA #410751 COLOR: BLACK


WILSON'S ALLEN


TWHBEA #350075
COLOR: CHESTNUT


RAMSEY'S RENA


TWHBEA #410682
COLOR: BAY
MARKINGS: NONE

PRIDE OF STANLEY


TWHBEA #472897
COLOR: CHESTNUT SABINO
MARKINGS: BOTH HIND STOCKINGS, BALD, MIXED MANE AND TAIL.


MERRY MAKER


TWHBEA #410944
COLOR: CHESTNUT

SABINO




MARKINGS: BOTH HIND AND NEAR FORE STOCKINGS, OFF FORE CORONET, BLAZE, FLAX MANE/TAIL.

PATSY DELBRIDGE


TWHBEA #

443146




COLOR: BAY




MARKINGS: STAR, SNIP.

SUN'S STAR O.
TWHBEA #715550
COLOR: BAY
MARKINGS: STAR
SUN'S DARK BEAM
TWHBEA #661448
COLOR: BLACK

MIDNIGHT SUN


TWHBEA #410751 COLOR: BLACK

GARNET'S SUN BEAM
TWHBEA #610110
COLOR: CHESTNUT
MARKINGS: STAR, MIXED MANE AND TAIL.
LADY SHERISSE
TWHBEA #653642
COLOR: BAY SABINO
MARKINGS: BOTH HIND AND OFF FORE STOCKINGS, NEAR FORE CORONET, ON OUTSIDE NEAR FORE LEG, ON NEAR HIP, ON BOTH SIDES, UNDER BELLY, UNDER LIP, BALD.
KELLEY'S GO BOY
TWHBEA #610015
COLOR: CHESTNUT SABINO
MARKINGS: BOTH HIND STOCKINGS, ON NEAR SIDE, BALD, FLAX MANE AND TAIL.
CLAUDE'S PRINCESS
TWHBEA #653640
COLOR: BAY
MARKINGS: FOUR STOCKINGS, ON BOTH SIDES, UNDER BELLY, BALD.

Westwood Farms - Locust Dale, Virginia 22948 - stephanie@westwoodfarms.net - 540-825-1300