Lined with Cash
(By Tracy Boyd . © Voice, March 2007)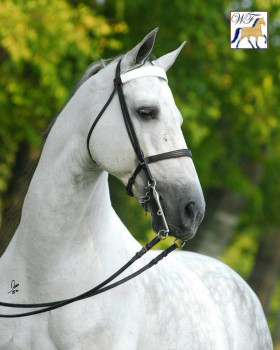 He was bred to be a champion, he became a champion and he's producing champions. He is big, gray and handsome. His offspring are often gray, mostly big and correct, and move like walking horses are supposed to. His name is Lined With Cash (L.C.) and he's arguably the finest pedigreed stallion in the breeding business today.

Bred by Linda Crowley and raised by Paige Edwards, Lined With Cash was foaled in south Georgia in 1996. His sire, 1987 World Grand Champion Coin's Hard Cash, is among the more influential stallions in modern breed history. His dam, 10-time world champion Generator's Silver Lining, is counted among the greatest show mares of all time. His color, which he inherited from his famous mama, makes him one of the few gray Hard Cash studs on the market today.

If the philosophy of thoroughbred breeder Bull Hancock is correct – that the family is stronger than the individual – it would be difficult to find a breeding stallion with better credentials. Through his second dam, Eldorado's Star Dust, L.C. is related to a multitude of top show horses, including WGC Silverado Spirit, WC Our American Eagle, WC Dark Spirit's Bay Boy and WC Flush With Spirit. His full brother, Outlined In Silver, is also a National Futurity Champion.

Started under saddle by Larry and Gary Edwards of Dawson, Georgia, L.C. had the size, pedigree and natural ability that all trainers look for in a young prospect. It became evident early on in his training that he was indeed something special.
By late summer, the colt that everyone had been talking about lived up to his promise and walked away with top honors in the two-year-old stallion class at the 1998 TWHBEASM National Futurity. His performance was simply breathtaking.

In 1999, L.C. repeated his success at the National Futurity with a victory in the Three-Year-Old Stallion division. The following week, he delivered another outstanding performance to secure the title of Reserve Three-Year-Old World Grand Champion (behind Jose' Jose') among one of the finest fields of three-year-olds ever assembled.

Following a successful junior campaign that saw him finish the season as Reserve Four-Year-Old Stallion World Champion and Reserve Four-Year-Old World Grand Champion, L.C. was offered at public stud from Waterfall Farms in Shelbyville, Tennessee.

"L.C. was one of the nicest young horses we ever had," said Gary Edwards. "As great as he was, I can honestly say that the public never got close to seeing his best performance."

The response to Lined With Cash as a breeding stallion was tremendous from the moment he set foot in the breeding shed. He is a true walking horse and possesses the size, pedigree and color that discriminating mare owners look for in a potential sire.

"We've bred a lot of mares to Lined With Cash and so have our customers because we believe in him so much," said Edwards. "We believed in his mama too. About five of the best horses in our barn today are sired by L.C."

Waterfall Farms is proud of the many award-winning offspring of this champion, which includes America On Line, On The Line, A Headliner, The Goal Line, The Lion King, Shakin' For Cash, Shock 'n Y'all, Outlined In Cash, I'm All Lined Up, The Magic Line, Cashin In At Sundown, Straight Line, Greyline, First In Line and Outlined With Silver, just to name a few.
"The thing we've noticed about Lined With Cash is his ability to produce winning get in all divisions," said Marty Irby, Waterfall Farms' Director of Sales and Marketing. "He's extremely versatile as a breeding stallion. He can produce a high-powered performance horse such as On The Line, a world champion park performance horse such as Straight Line, and an honest to goodness trail pleasure champion such as The Lion King. Just pick your division."

Waterfall Farms is also pleased to include Lined With Cash in its $200,000.00 Breeding Incentive Program.

With the passing of both Coin's Hard Cash and Generator's Silver Lining, Lined With Cash is poised to fill the void these two legendary horses left behind.