He's Puttin' On the Ritz: A New Song and Dance in Shelbyville
(Reprinted with permission from Voice of the Tennessee Walking Horse magazine, October, 1996)
By Vickie Presley Mazzola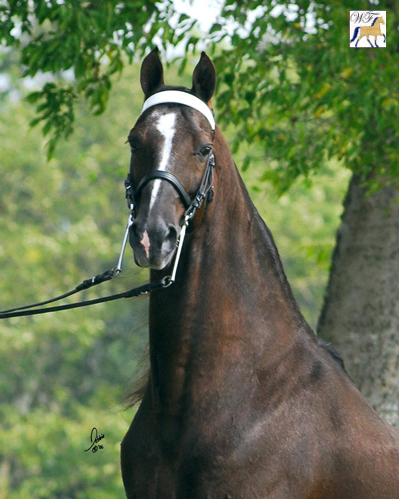 It was all song and dance the last Saturday night in August. The stadium was dark, the crowd hushed, the spotlights danced over a field of the best Tennessee Walking Horse stallions in the industry. Organist Larry Bright entertained the impatient fans with his traditional Flat Walk Boogie, while everyone waited anxiously for the 1996 World Grand Champion Tennessee Walking Horse to be crowned. Finally, after what seemed an eternity, announcer Bobby Sands took a deep, deep breath and called #1268 for none other than He's Puttin' On The Ritz!

Over the tremendous roar of applause, trainer Sammy Day directed the magnificent chestnut around the historic Celebration ring for a victory pass that took everyone's breath away. He then turned Ritz toward the center ring to receive the honors and accolades they deserved.

This is no average story of a new World Grand Champion, because He's Puttin' On The Ritz is no average horse. Sammy Day is no average rider. And, Bill and Sandra Johnson are no average owners. They all had what it took to pursue a dream and see it through to the ultimate victory.

He's Puttin' On The Ritz has a fire in his heart, says a proud Bill Johnson. We believed he could be a great horse from the day we bought him, and tonight, he proved he was!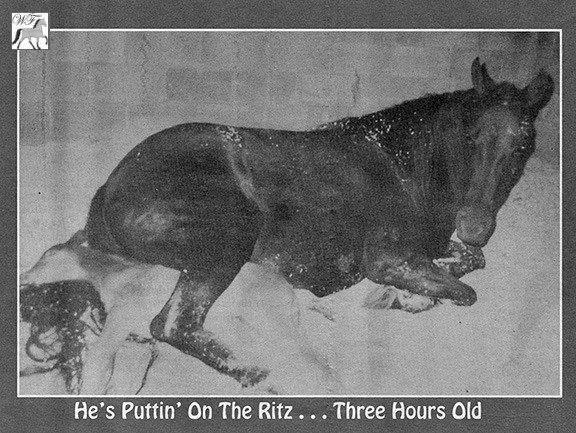 Ritz was bred and raised by Paige and Gary Edwards in Dawson, Georgia. He was sired by the late great A Comand Performance, out of Gen's Living Doll, by Prides Generator out of a GLL's Carbon Copy mare. After studying bloodlines, Paige decided to breed her Generator mare to a son of Pride Of Midnight H. F. And, on Valentine's Day in 1991, right during the middle of a vicious freezing cold spell, the tiny foal was born. Paige originally named the colt Desert Storm Commander since the conflict was then going strong.

His mother, Gen's Living Doll, has been special to me all of her life, Paige said. She is extremely smart, and has learned to do tricks since she was a baby. It thrills me to know my favorite mare created this wonderful horse. Paige added that Gary and she are especially pleased that Ritz totally captured the heart of the crowd. He's just one of those horses people seem to like immediately.

He's Puttin On The Ritz was bred sparingly late in the fall and spring, and everyone is anxiously awaiting his get.
Ritz has one full brother that is also owned by the Johnsons. He's a two-year-old plantation horse named In Total Command who won an impressive ribbon in the two-year-old plantation class.

The Johnsons purchased He's Puttin' On The Ritz from Paige and Gary as a two year old in early 1993. Georgia trainer Flip Cook had been on the lookout for a horse that could win the big one for the Johnsons. He felt Ritz might be the one. Under the direction of Billy Gray and son, Tim Gray, the young stallion proved to be just as Paige had said, and then some. Shortly after Ritz earned the title of 1993 Two-Year-Old World Grand Champion, trainer Billy Gray remarked, He's a super good horse with all the talent and ability a trainer could want.

That was just the beginning for the chestnut stallion. Under the training abilities of the Grays and their Sand Creek Farm, Ritz continued his winning ways to capture the 1994 Three-Year-Old World Championship along with many other titles throughout the year. The 1995 show season started off just the same until he suffered a hoof injury that kept him out of the Celebration.

But, we all know the great ones cannot be stopped. By the opening of the 1996 season, Ritz had recovered from his setback brilliantly. Holding his head high and proud, he entered the show ring and proved once again he was to be mentioned in the walking horse history books. He won trophies and blues at the World Cup Spring Premier, the Owingsville, Kentucky Lions Club show, and Belfast, Tennessee.

During the time Ritz was recuperating, Bill and Sandra Johnson also decided to give their all to walking horses. They opened a state-of-the-art addition to their Waterfall Farms with a top-notch training and breeding facility in Shelbyville. They sought out David Tenpenny, well-respected as a breeding farm manager, to administer the breeding operations at the new location. And, in order to bring all their padded show horses under one roof, they hired noted trainer Sammy Day to oversee the training facility.

Sammy Day is no stranger to the WGC spotlight. In 1980, he directed Ebony's Mountain Man to the prestigious title. The second time is just as exciting as the first, he said with a grin. Especially with a horse like Ritz. He started with two of the best trainers in the industry, and I'm proud to have trained him this past year and for the opportunity to ride him under the spotlight.

Day gives full credit to the two other men who have shined in the life of He's Puttin' On The Ritz. The Gray's Sand Creek Farm is an icon in the industry which has trained countless numbers of both World Champions and World Grand Champions. In fact, Billy Gray has trained and ridden three stallions to World Grand Championships.

Billy and Tim are professional and dedicated trainers, added Bill Johnson. We appreciate their efforts very much.

Sandra Johnson agreed. The people we've met have been so hospitable and warm since we first became involved with walking horses. I believe that's a good indication of the character of the industry overall. Before and after Ritz won his title, so many old and new friends and acquaintances dropped by the stables to wish us the best. The walking horse circles are full of so many wonderful and genuinely nice people.

Two genuinely nice people themselves, Bill and Sandra Johnson have given back to the industry far more than they could imagine. From establishing an impressive educational scholarship program right down to offering chilled bottled water on hot Celebration days, they have become a welcomed part of the industry. During the festivities, the Johnsons invited everyone (and we do mean everyone ) over to the new Waterfall Farms training and breeding facility for a delicious barbecue lunch on the grounds.

Sandra and I are firm believers that if it's worth doing, it's worth doing right, said Bill. Our commitment to the horses is no different. When we decided to pursue the walking horses, our objective was to acquire the very best we could find and send them to the very best trainers. Acquiring younger horses enabled us to bring them along and enjoy them ourselves. It also gave us a chance to learn about them and be there while they were growing up and to be involved as they became competitive winners. Although I hoped for one of my horses to one day achieve the World Grand Champion title, I never imagined it would be so soon!

Bill and Sandra have been married for 35 years, and both have been interested in horses all their lives. Sandra's family is full of respected veterinarians. Her father was one of the top veterinarians in the Atlanta area for more than 40 years. Two of her uncles are also veterinarians as well as her brother.

As chairman of the board and chief executive officer of the Atlanta-based W. B. Johnson Properties, Inc. and its subsidiary, The Ritz-Carlton Hotel Company, Bill approached horses with the same commitment to quality.

Quarter Horses captured his attention early on, but a persistent friend and business colleague, R. Randall Rollins, kept him in the know when it came to walking horses. Many remember Mr. Rollins as the owner of the 1970 World Grand Champion Tennessee Walking Horse, Ace's Sensation.

Gradually, Bill's interest shifted completely to walking horses, and now he is hooked. There is just no other breed with more to offer than walking horses, he said. We enjoy bringing our friends over to see and ride our pleasure horses. They are always so surprised that there is a horse that can do it all.

So, what's next for He's Puttin' on the Ritz? The World Grand Champion Tennessee Walking Horse has always served as an ambassador for the breed. The Johnsons plan to continue that tradition. He will be exhibited in special performances all across the country such as Asheville, North Carolina and others.

Primarily, however, the Johnson's plan for Ritz to continue his part in helping Waterfall Farms build a distinctive reputation as a top-notch training and breeding facility. He will stand beside Prides Generator, Coin's Hard Cash, JFK, Doc's High Tribute, Pride's Clutch, Cash For Keeps, Impressive Sun Rise, and others, all top stallions in their own rights.

Although booking fees for Ritz have not yet been disclosed, he will stand at stud beginning this fall. He's Puttin' On The Ritz is certain to make his mark as a superstar.
So,
Join right in at the Celebration,
Spread the word across the nation.
The winner's here,
Stand and cheer,
He's Puttin' On The Ritz!