Bella is a big, beautiful chestnut sabino mare with roaning (not the true roan gene.) She is a true sweetheart - a gentle giant with a heart of gold. She is easy to handle on the ground or in the saddle. She leads, loads, ties, clips, bathes, and backs like a lady. She has miles and miles of trail experience and has been a true asset to our riding lesson program. We even have used her to give lessons to complete beginners. She can running walk, has a super fast rack and a true canter. She rides English, Western and bareback.
Bella is a wonderful mother and teaches her foals to love their human handlers. She has always foaled easily and takes the excellent care of her foals without being the least bit over protective, which helps encourage their independent natures. Her foals have been large, very correct, intelligent and wonderfully gaited.
Bella was bred by the late Mark Harrison of Maryland. Bella's dam, Diggers Little Kate, was a true head-nodding running walking mare who walked and planted with the best of them. Bella is by the late, great Sir Joseph's Rocker, a talented gold champagne stallion who was well known in the Mid-Atlantic Region. He held many championship titles and produced a legacy of colorful, talented foals - 4 of whom are Bella's full siblings. Sir Joseph's Rocker passed away in 2005.
Debbie Gillespie purchased Bella as a two year old. Debbie, under the tuteledge of Mr. Harrison, showed and rode Bella in flatshod classes. When Debbie moved from Maryland to Virginia, Bella became her trail horse. When Debbie brought Bella to Gambler's court in 2006, I felt an immediate connection. Maybe is it was because she could have been a twin to my first gaited foal - Flame's Southern Belle. At a true big-boned 16 hands, she's much bigger than my original Belle, but she is everything that a walking horse should be. She came with the nickname "April", but I've given up trying to remember to call her by it. She's become "Bella" and seems quite happy to answer to it. Perhaps she knows "Bella" (Italian for "beautiful") fits her.
Gambler felt the same connection. When Bella stepped out of Debbie's little two horse trailer and the trailer rose by about a foot, Gambler's eyes nearly popped out of his head. He absolutely adored Bella from the start. He romanced her and groomed her more often than any of the other mares in the herd.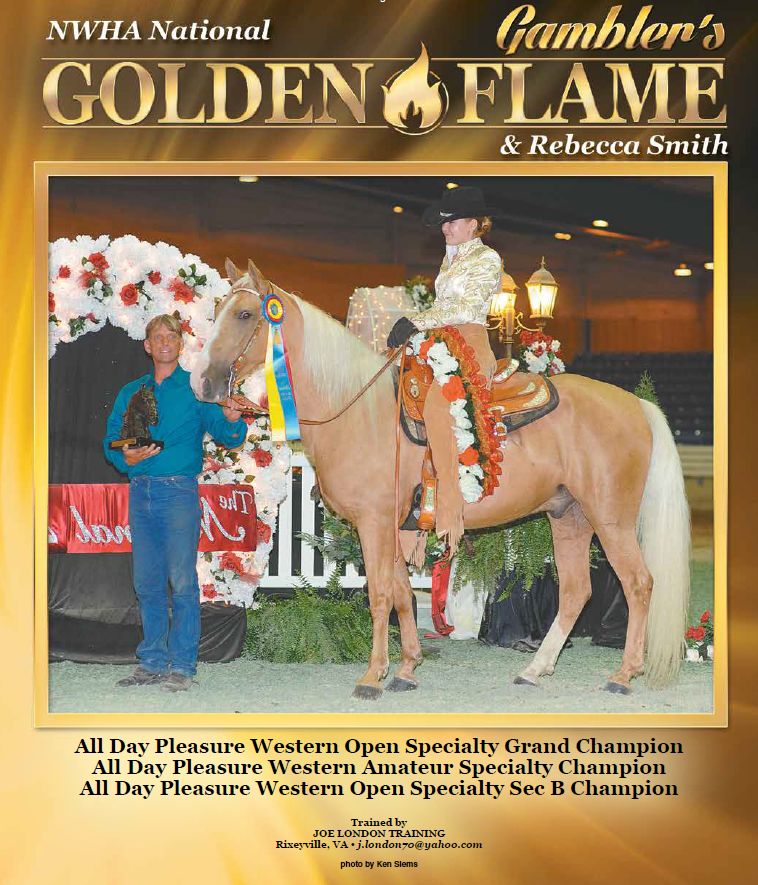 Debbie retained the first foal when I purchased Bella. Bella and Gambler's first son, Gambler's Golden Flame WF, exceeded our wildest expectations. I talked Debbie into taking Flame to local (amazing) trainer, Joe London. Under Joe's tuteledge, Debbie and Flame began an amazing show career. See Flame's page for the full story. Flame has since earned 9 Championship titles, 3 National Grand Champion titles and numerous other titles.
The second foal from the cross, Gambler's Golden Julep, has never entered the show ring, but is no less exceptional. Julep is owned and loved by Helen Martin Howe of South Carolina. Julep is ridden by a little girl with cerebral palsy. Helen says that she rides JuJu with no problems and that she is a testament to the disposition that Gambler passes along to his foals.
The third of the Bella/Gambler crosses is Gambler's Southern Rebel. A rebel he is not. "Weeman's" willing, gentle disposition and bright, inquisitive mind make him a real treasure. Even from a young age, he was just as solid and honest as they come. He is a once in a lifetime horse.
When we crossed Bella to Gambler for the the fourth time, I hoped for a bay or buckskin sabino filly to keep to carry on Bella's legacy...but the ring test said "boy." We thought we'd have to wait until the end of September, but Bella had other ideas. On August 28, 2015 Bella surprised us with a beautiful, chromed up bay sabino filly!
In 2010, Pam Langston visited our farm to see a palomino mare that we has for sale. It was clear from the beginning that Bella was exactly what Pam needed, though she didn't realize it at first. Bella was Pam's mount for her stay and the two just clicked. Though she didn't come to look at Bella, she ended up taking her home with her to Georgia. Since then, Bella has travelled back and forth between Virginia and Georgia with Pam.
I will always be greatful to Bella for introducing me to two of my best friends: Debbie and Pam. The partnership that we have built in our horses would never have been possible without our big, beautiful girl!
KATE's RED Flame

SMHA #070016
TWHBEA #965377

DOB: 4-6-1996
SEX: MARE

COLOR: CHESTNUT SABINO
MARKINGS: BLAZE, UNDER CHIN, BH STOCKINGS, FLAXEN M/T

GENOTYPE:
[ee]

HEIGHT: 16H

SIR JOSEPH'S ROCKER
twhbea #833066
color: GOLD CHAMPAGNE SABINO

SIR JOSEPH E.
TWHBEA #762323
COLOR: ROAN
MIKE'S THINGDOER E.
TWHBEA #697459
COLOR: BAY
MY MIDNIGHT MIKE
TWHBEA #550093
MERRY SCARLET
TWHBEA #580994
ALLEN'S TARHEEL
TWHBEA #696555
COLOR: BAY ROAN
MIDNIGHT SHADOW BOY
TWHBEA #610510
FOSTER'S STAR
TWHBEA #620236
FLAME'S GOLD HONEY
TWHBEA #782972
COLOR: GOLD CHAMPAGNE SABINO
WILSON'S GOLD FLAME
TWHBEA #691191
COLOR: GOLD CHAMPAGNE SABINO
WILSON'S BAND O GOLD
TWHBEA #591699
COLOR: GOLD CHAMPAGNE
STAR LIGHT OF LURAY
TWHBEA #650454
COLOR: BAY SABINO
NAMRON'S LADY B.
TWHBEA #694963
COLOR: BAY
NAMRON'S ROYAL SUN P.
TWHBEA #632208
SUN'S LITTLE RASCAL B.
TWHBEA #642878
DIGGERS LITTLE KATE
twhbea #882990
color: CHESTNUT
COINS GOLD DIGGER
TWHBEA #816491
COLOR: CHESTNUT
PRIDE'S GOLD COIN
TWHBEA #742472
COLOR: CHESTNUT

PRIDE OF MIDNIGHT H.F.
TWHBEA #661459
COLOR: BLACK

DELIGHT'S JOANNA
TWHBEA #694341
COLOR: CHESTNUT

DELIGHT'S LINDA B.
TWHBEA #720390
COLOR: BLACK
SUN'S DELIGHT D.
TWHBEA #592116
COLOR: CHESTNUT

LINDA MERRY BOY
TWHBEA #623235
SETTING SUN MISS MINK
TWHBEA #795422
COLOR: CHESTNUT
SETTING SUN'S BLAZE
TWHBEA #621459
SETTING SUN
TWHBEA #530380
APRIL SHOWERS
TWHBEA #430050
COLOR: CHESTNUT SABINO
SOUVENIRS MISS MINK
TWHBEA #621457
GO BOY'S SOUVENIR
TWHBEA #490589
MERRY GO BELLE T. F.
TWHBEA #521009
K's Hard Times
2014 Black Gelding

Sire: Major Reform (bay)
Date of birth: 5-24-2007
Genotype: [Ee aa]
Owned by: Melissa Dowd, VA


Kate's Copper Coin
2017 Chestnut Mare

Sire: Hyline Delight (chestnut)
Date of birth: 2017
Genotype: [ee A-]
Owned by: Pam Langston, GA

Westwood Farms - Locust Dale, Virginia 22948 - stephanie@westwoodfarms.net - 540-825-1300