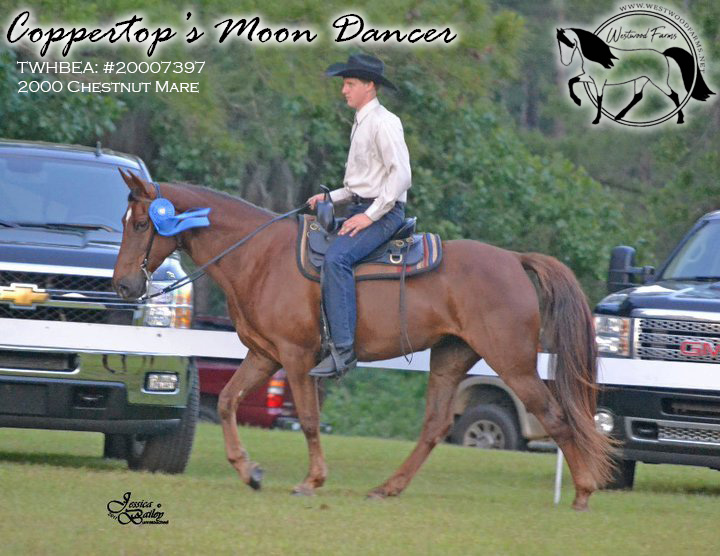 Dancer comes from Jim and Tina Singleton's foundation breeding program in middle Tennessee. Her sire, Mr. Coppertop, is consistently in the top rank among stallions producing natural versatility and flat shod champions. Her dam carries the coveted Pride's Gold Coin lines.
The Singletons raised and trained Dancer. They developed her natural gaits and cat-like agility. Through their efforts, they produced a mare with the power and quickness of a reining horse and a true push-button Cadillac ride. She is incredibly well trained and moves off of seat, leg or verbal cues. She is the type of mare that can sit in the pasture for months and come out and knock your socks off. Of course, the more conditioning she has the better she is.
In 2009 The Singletons allowed us the opportunity to own this wonderfully talented show mare and trail horse deluxe.
Dancer's gaits are strong, smooth and effortless, and yet you can still feel the immense power of the horse beneath you. She can dog walk as quiet and calm as and western pleasure horse. Her intermediate gaits are perfectly in the middle of the spectrum. On a scale of 1-10 (1 being trotty and 10 pacey) she is 5-6 . This mare cannot rack or hard pace, but she can do a very smooth stepping pace, a wonderful head shaking 4 beat flat walk and running walk, and a loose large extended trot. Her range of gait is why she herself is so natural. She is light and fluid in gate with a little swing at a dog walk. Her favorite gait (and ours) is her running walk. When she really gets to walking her ears go to flopping and her teeth chatter in rhythm with her footsteps. Our second favorite gait is her to-die-for rocking chair canter. We have covered many miles on the Southern Georgia plantations with her flashy, smooth, ground-covering canter.
Dancer's mind is one of her finest attributes. She is sensitive and brilliantly smart. A truly diverse mare that excels no matter what she encounters. Everyone who has worked with her or competed against her in the show ring will tell you that she is exceptional. She has a tremendous work ethic and loves to do her job.
Dancer is the leader and alpha by birth but rules with peace and grace. She has no tolerance for bad behavior from others, which makes her an awesome matriarch as the little ones pick up on her desire for peace and calm. Most of the time, she only has to look at the offending party to quell the rebellion. She never displays "witchy" or "marish" behavior – just a calm dignity. Her lady-like demeanor and pleasant attitude make her a true pleasure to be around.
We feel she is an ambassador for introduction to the breed to new comers and truly shows that a walking horse can do anything. It's rare to find a horse with such an extensive list of championships and ribbons in the show ring that you can take right on the trail and still excel. Whether you're in the show ring or riding along a river bank, Dancer will give you her best. She is a horse that loves to connect with her rider. Almost reminiscent of the horses in Avatar, Dancer seems to bond with rider and give them exactly what they need in terms of energy and effort. She will quietly carry a timid rider or give an experienced rider whatever they ask from her.
Dancer's many fine attributes convinced us that she could be an asset to the gene pool. Her first two foals are proof of her worth as a broodmare. They are big, smart, naturally talented foals. We look forward to her first foal with Golden Gambler - two champions in their own right. There are no other words for the foals from this match other than crème of the crop whether trail riding, versatility or showing --- the possibilities are endless in this match! We are guaranteed brilliance, strong work ethic, natural gait and good looks. Our first Gambler x Dancer foal was born on May 4th, 2016 and he is incredible!
COPPERTOP'S MOON DANCER

TWHBEA #20007397

DOB: 4-25-2000
SEX: MARE

COLOR: CHESTNUT
MARKINGS: ON UPPER LIP, STAR.

GENOTYPE:
[ee]

HEIGHT: 15.2H

MR. COPPER TOP


twhbea #894945
color: CHESTNUT


PRIDES GENERATOR


TWHBEA #753925
COLOR: CHESTNUT


PRIDE OF MIDNIGHT H.F.


TWHBEA #661459
COLOR: BLACK


MIDNIGHT SUN


TWHBEA #410751
COLOR: BLACK


PRIDE OF STANLEY


TWHBEA #472897
COLOR: CHESTNUT SABINO
MARKINGS: BOTH HIND STOCKINGS, BALD, MIXED MANE AND TAIL.


H. F. SPIRITS NELL


TWHBEA #661424
COLOR: CHESTNUT
MARKINGS: BLAZE

SPIRIT OF MIDNIGHT


TWHBEA #571132 COLOR: BLACK
MARKINGS: STAR


NELL'S LAST LADY


TWHBEA #530552
COLOR: CHESTNUT
MARKINGS: BOTH HIND FETLOCKS, BLAZE, MIXED MANE AND TAIL.

DELIGHT'S GOOD LADY


TWHBEA #754542
COLOR: CHESTNUT

SUN'S DELIGHT D.


TWHBEA #592116
COLOR: CHESTNUT


MIDNIGHT SUN


TWHBEA #410751
COLOR: BLACK

WILSON

SNIP'S CHANCE


TWHBEA #492405
COLOR: CHESTNUT
MARKINGS: OFF HIND FETLOCK, STAR, SNIP, MIXED TAIL.


MAID'S BLACK LADY


TWHBEA #580893
COLOR: BLACK

MIDNIGHT SUN


TWHBEA #410751
COLOR: BLACK


SUNSHINE MAID


TWHBEA #462240
COLOR: BLACK ROAN

COIN'S ANNIE


twhbea #894941 color: BLACK

BLACK DABLOON


TWHBEA #810409
COLOR:

BLACK

PRIDE'S GOLD COIN
TWHBEA #742472
COLOR: CHESTNUT


PRIDE OF MIDNIGHT H.F.


TWHBEA #661459
COLOR: BLACK


DELIGHT'S JOANNA


TWHBEA #694341
COLOR: CHESTNUT

BARRY'S SUNBEAM


TWHBEA #761824 COLOR: BLACK

SUN'S DARK BEAM


TWHBEA #661448
COLOR: BLACK

MACK'S WHITE SOX
TWHBEA #643252

PRIDE'S NOVA


TWHBEA #770371 COLOR: BLACK

PRIDE OF MIDNIGHT H.F.


TWHBEA #661459
COLOR: BLACK


MIDNIGHT SUN


TWHBEA #410751
COLOR: BLACK


PRIDE OF STANLEY


TWHBEA #472897
COLOR: CHESTNUT SABINO
MARKINGS: BOTH HIND STOCKINGS, BALD, MIXED MANE AND TAIL.


SUN'S MERRY GIRL M.


TWHBEA #655285
COLOR: BLACK

MIDNIGHT SUN


TWHBEA #410751
COLOR: BLACK


SUNSHINE MAID


TWHBEA #462240
COLOR: BLACK ROAN

OOPs I'm A Coppertop
2014 Chestnut Mare

Sire: Out on Parole
Date of birth: 2014
Genotype: [ee]
Owned by: Kelley Featheringill, SC

Gambler's Copper & Coal WF
2016 Bay Stallion

Sire: Golden Gambler
Date of birth: 2016
Genotype: [Ee A-]
Owned by: Julie Roberson, FL

Westwood Farms - Locust Dale, Virginia 22948 - stephanie@westwoodfarms.net - 540-82-1300